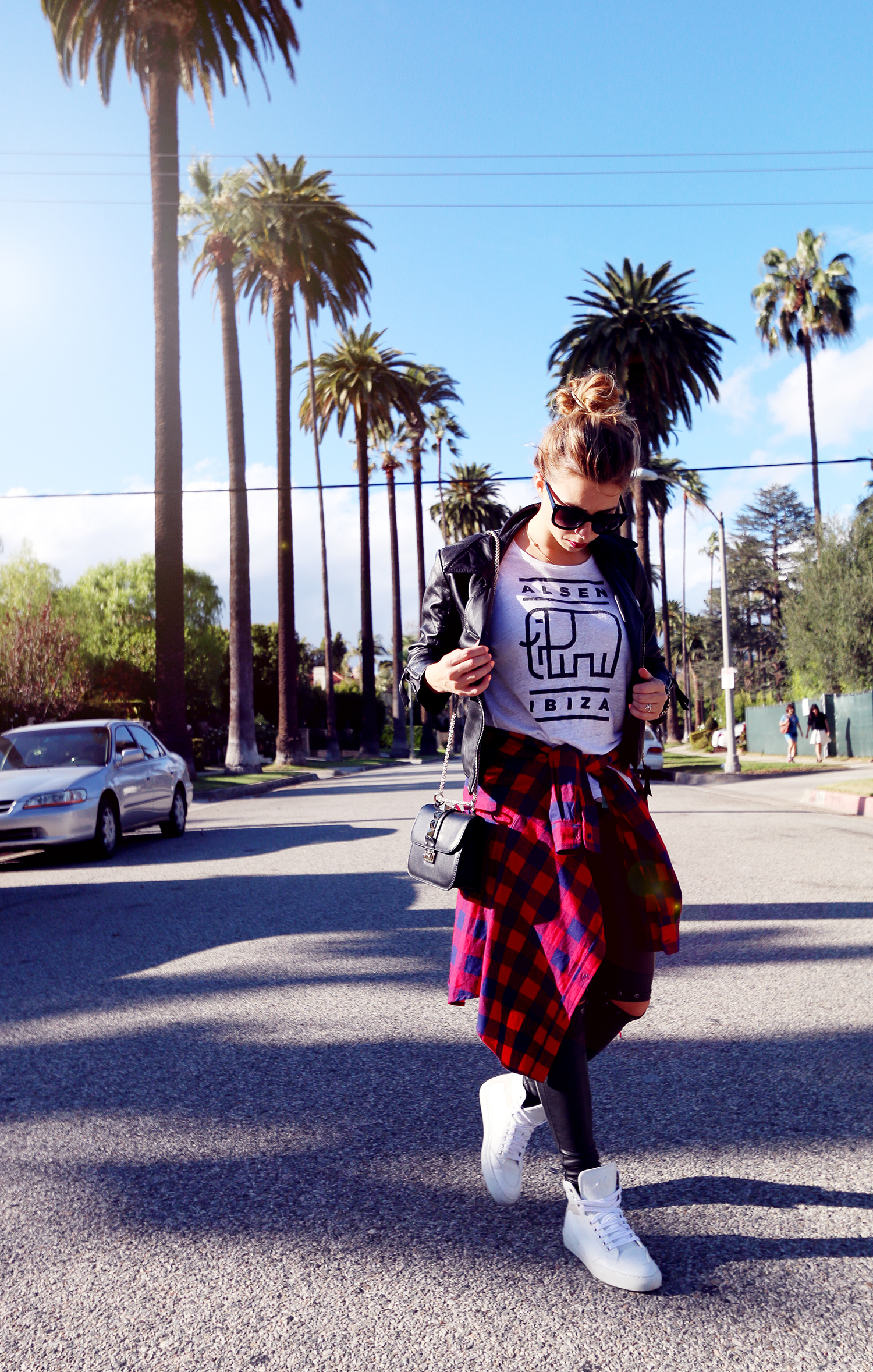 The Cool Kids are back! Somehow this look is quite unusual for me, nevertheless I'm loving it! This new red blue checkered shirt from Fashionpills became one of my favorites within the last few weeks and I feel like there is no better occasion than to wear this in Beverly Hills. Why is that, you  may ask. Well, I don't know who of you knows about my obsession with the Kardashians (especially Kylie and Khloé), but as a matter of fact I'm following some 'papparazi' Kardashian accounts on instagram, that always show Khloé going to the gym in Beverly Hills – in no other outfit than black tights and a red checkered shirt 😉 And although this look might seem a little too cool for me and my – usually rather feminine and pastel matchy matchy stlye – it's still a typical Luisa-look. Because everything matches from the color of my lips with the shirt to the white sneakers and T-Shirt and the jacket, pants and my new Valentino bag.
I really miss my best friend Lina, that I used to live in Los Angeles with this past year, but I also must say, that Xenia and I are a really good team. Especially, when it comes to work! There are actually a few things I can really learn from her, because she is super hard working and focused on her blog as well and its so motivating to have someone sitting next to you working on a blogpost. It literally makes me want to produce more content and to get back to frequent posting. Another very motivating factor to work more in Los Angeles is the weather and the amazing shooting locations. Every other street just looks special and exotic and combined with the perfect light in L.A. it's simply so much easier to produce good quality content here. Xenia and I have already shot more than six outfits in less than a week and it's just so much easier to have someone living with you that works in the same job and loves to take (many!) pictures as well 🙂 Finally, I'm back in a very good work-flow and get my sh** done! My instagram account is growing again (I love, how interactive and supportive you guys are!) and my daily snapchat stories (luisaslions) have become a beloved ritual for me. I'm back to filming follow me arounds for my German youtube channel and I'm planning on producing more content for my English Youtube channel as well.
I have to admit, though, that I have two people helping me with my blog and social media right now, so that obviously helps a lot. Therefore I get to spend more time on my actual blogpost again. I love writing and I feel like, I neglected my blog for a while, because I wasn't happy how the design and layout looked. However, since blogwalk switched to wordpress I finally got to change some things and I'm so much happier now with the design and the structure of the posts. In case you haven't noticed, there's also a new language function now. So when you're IP adress comes from abroad (e.g. The U.S.), you automatically get shown the English version of my blogpost (I actually have to write each blog posts double now, once in German and once in English), but I think this way it's way more convenient for everyone and I finally get to express myself in English as well. Even though, I already used to write my blogposts in English before, I never spent as much time and I tried to keep them way shorter and not as personal as the German version. But these days are over now 😉 So in case you are NOT a German reader, please comment under this blog post so I know, there's actually people reading the English version as well 😉 Let me know, if you are interested in more personal and longer posts like this one in the future!
Xx, Luisa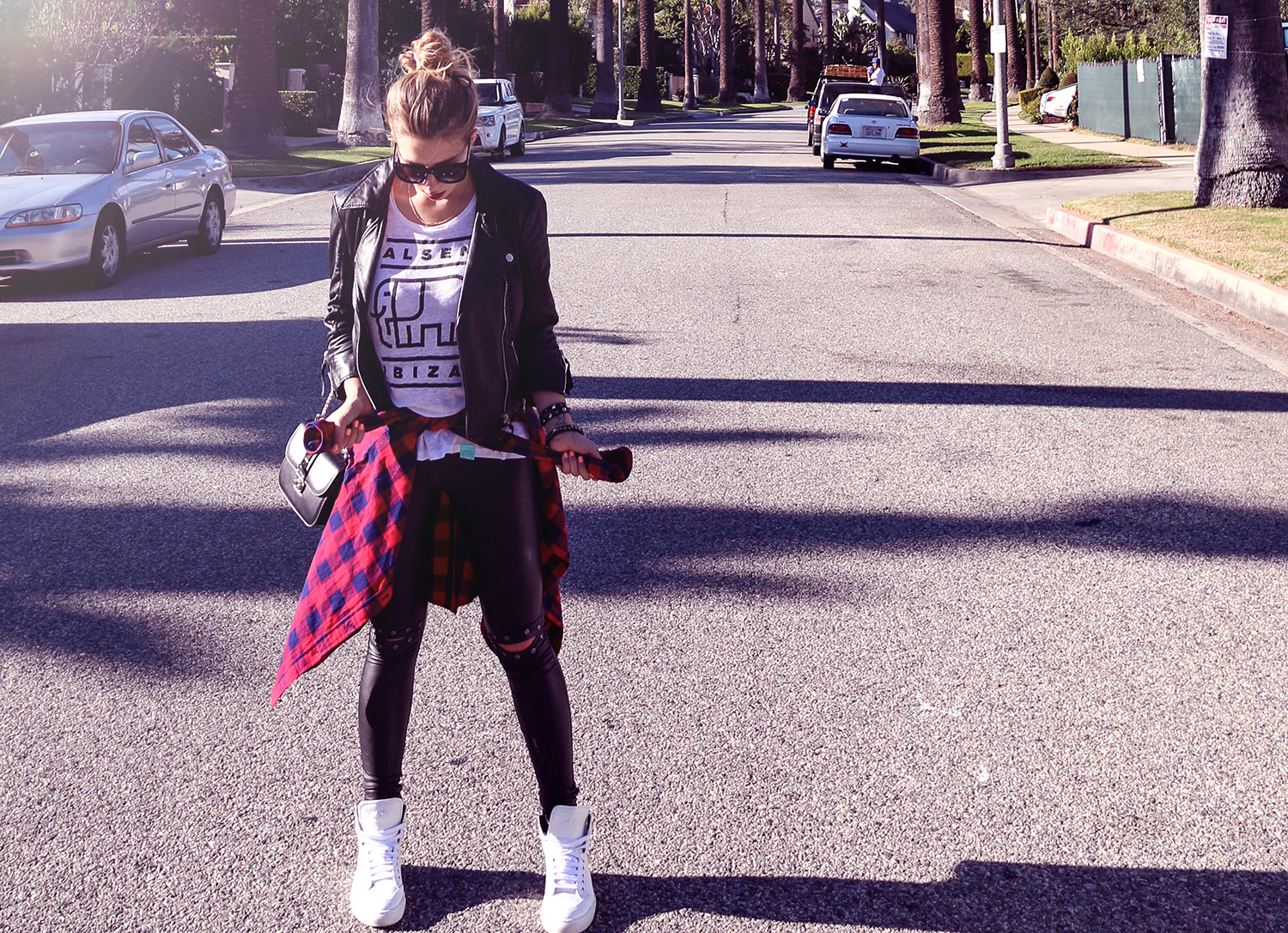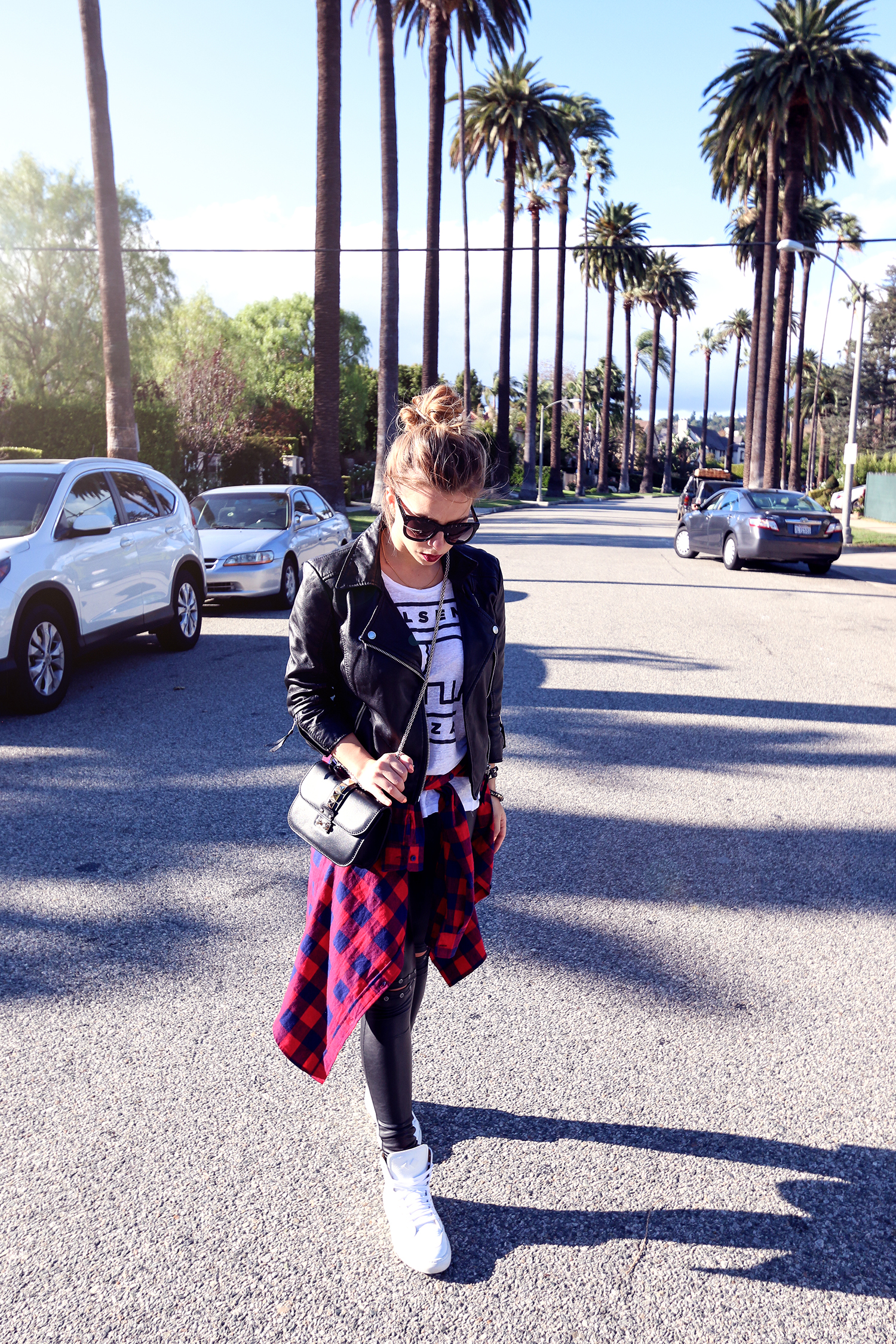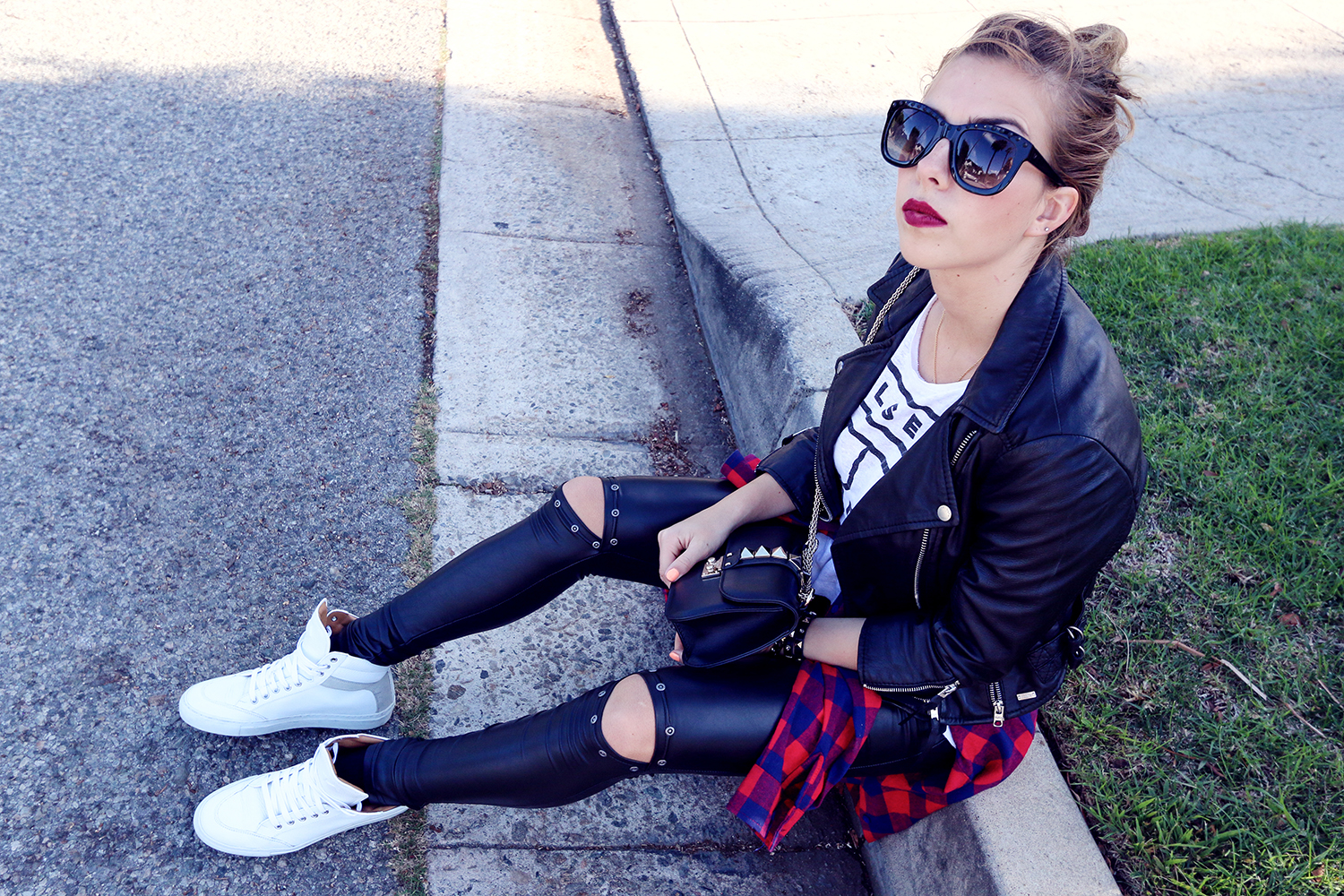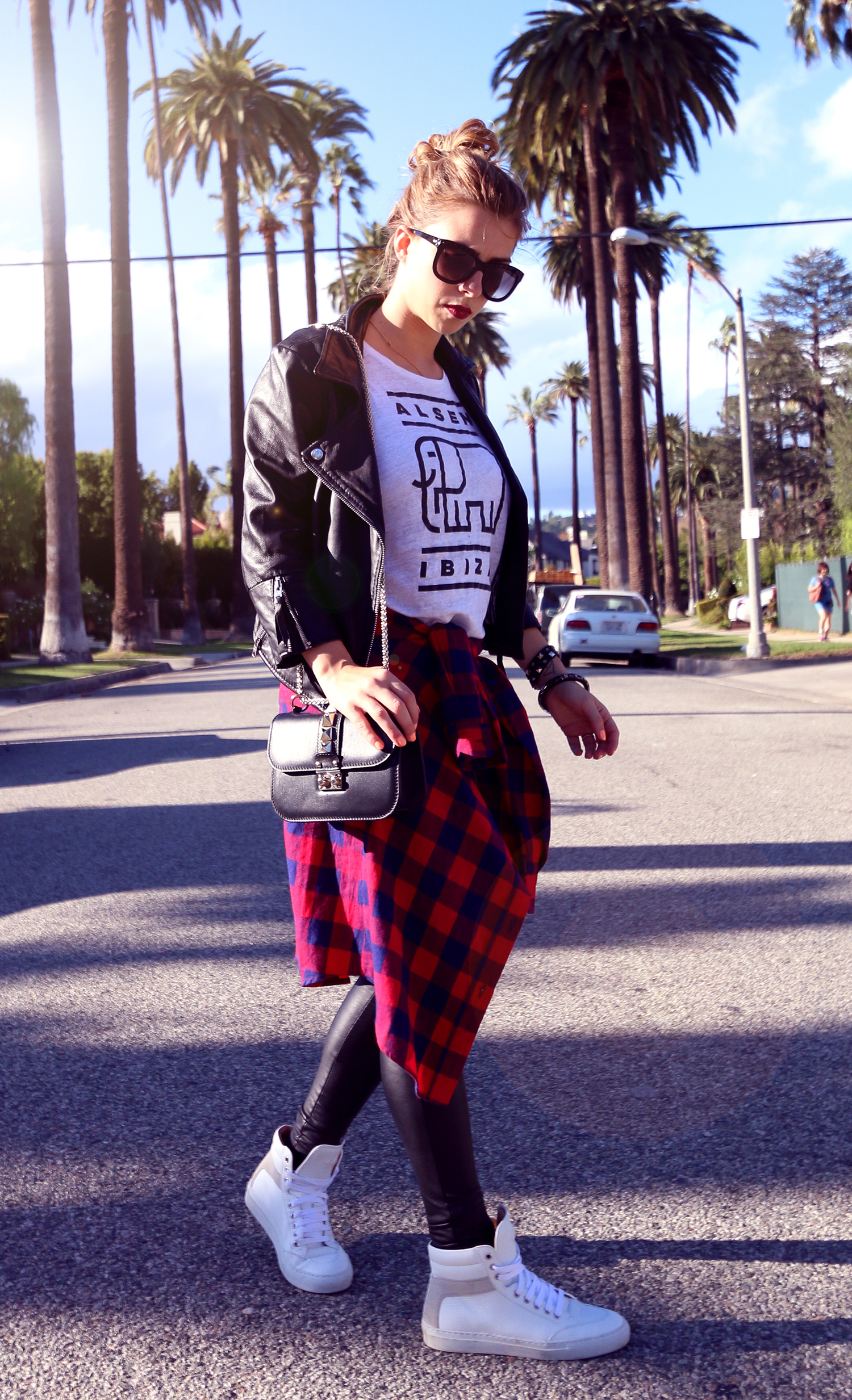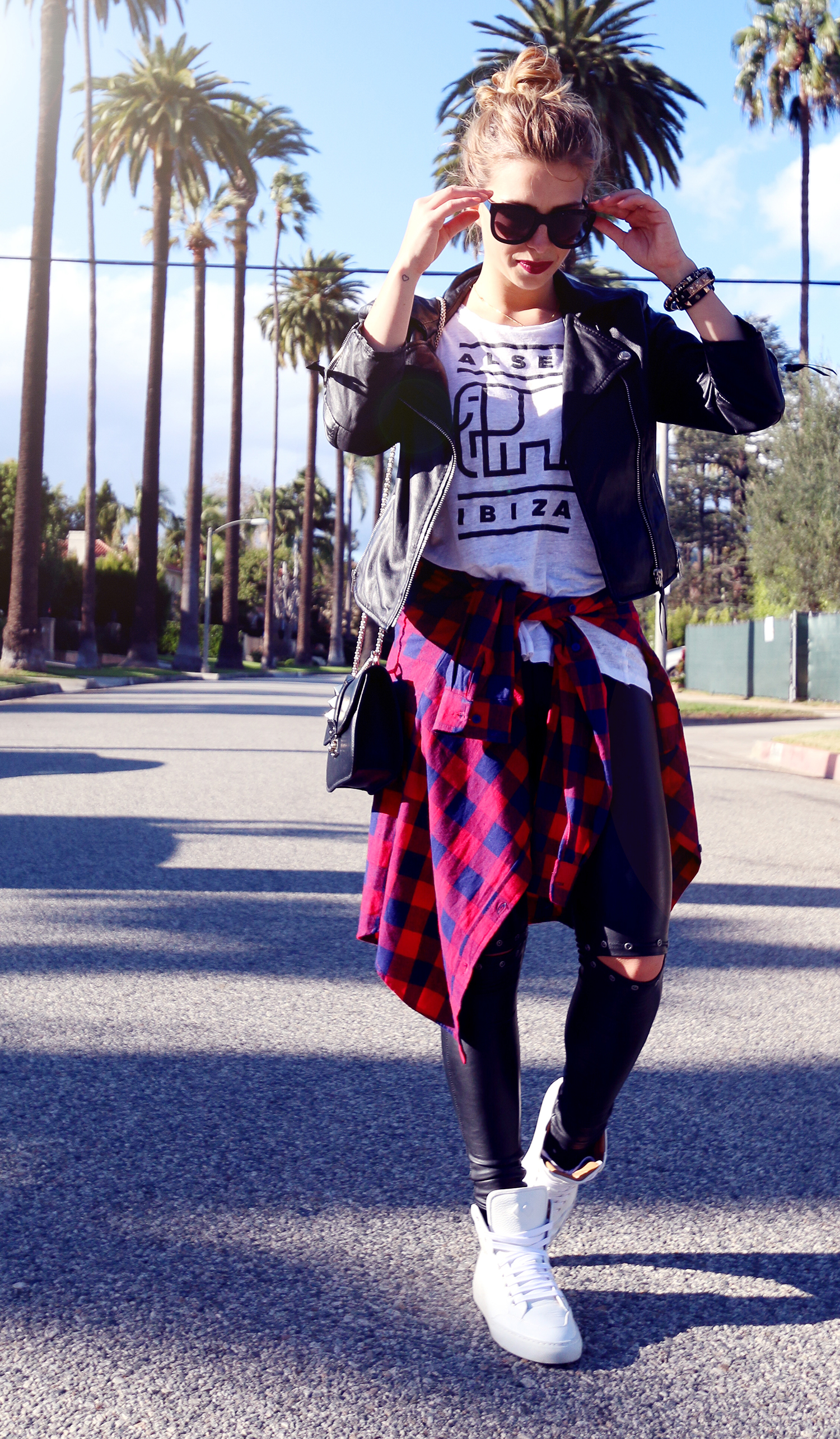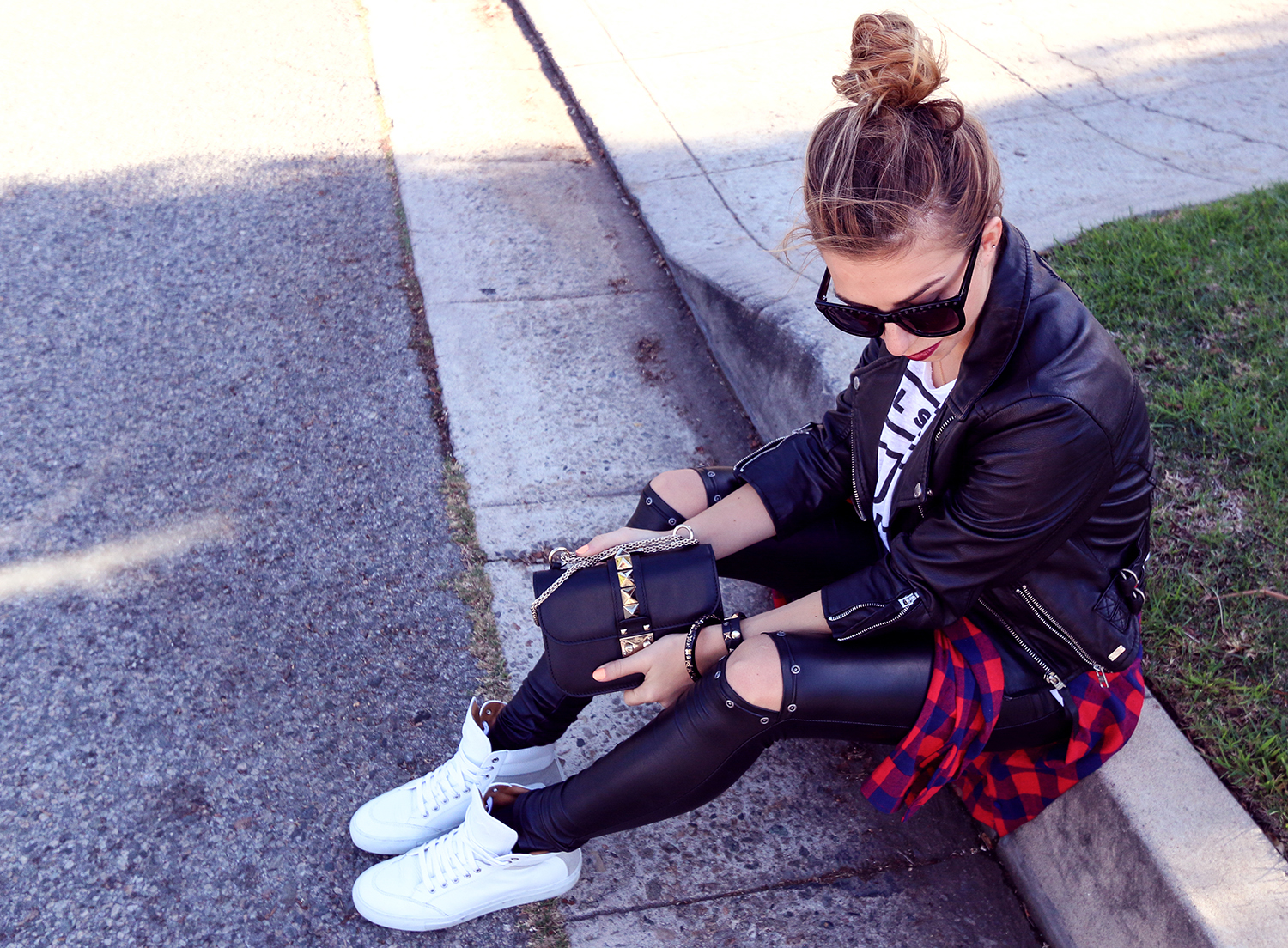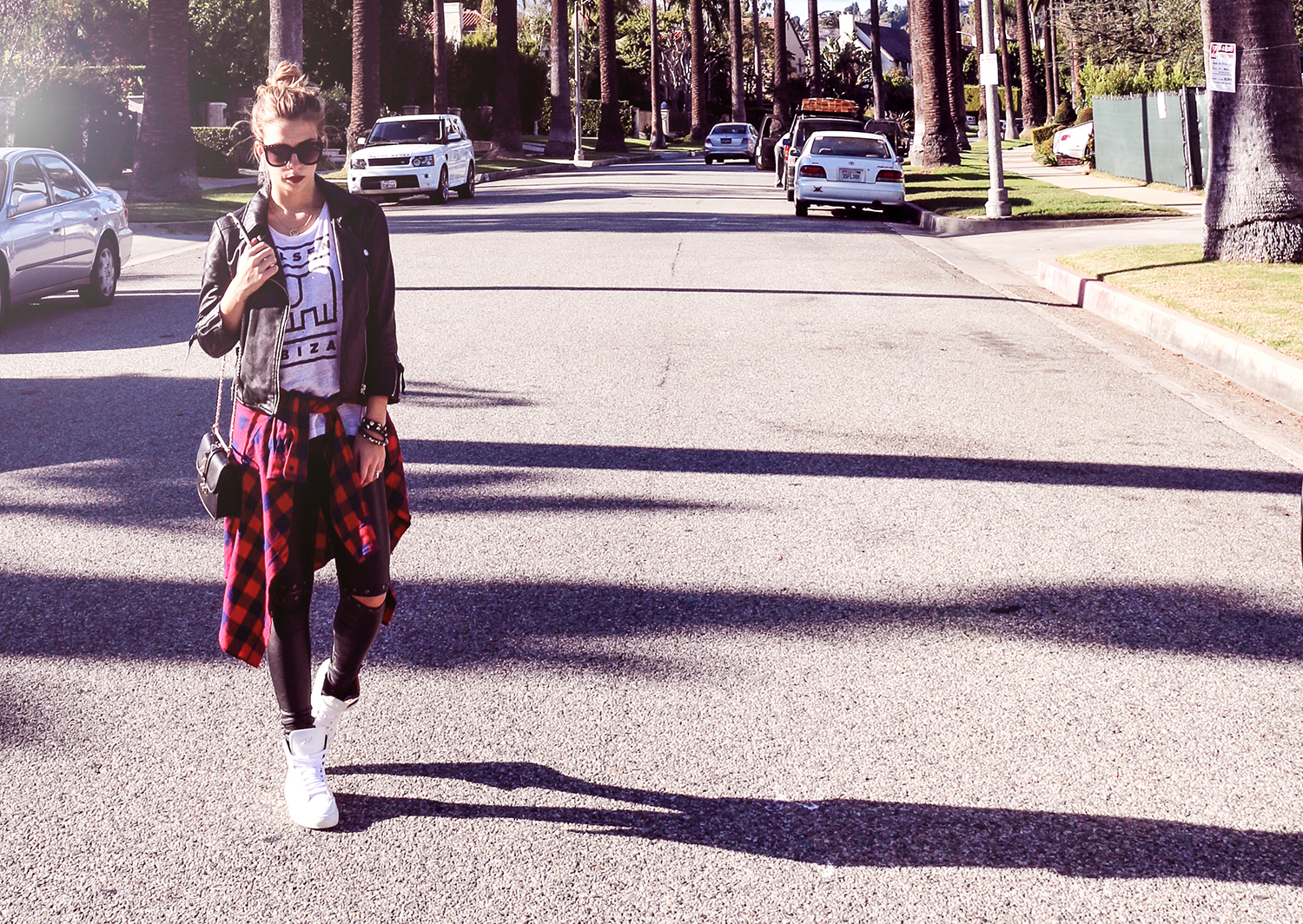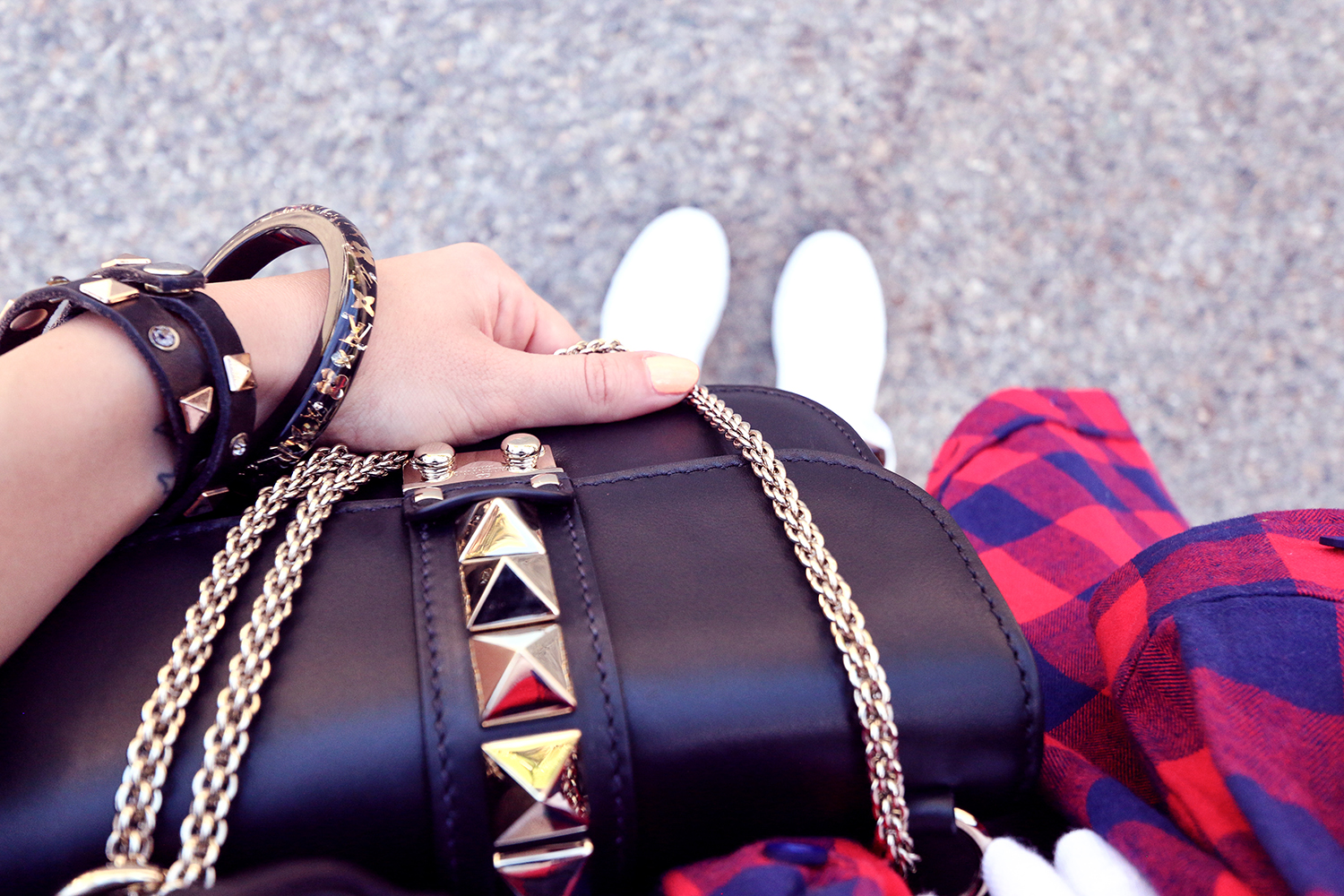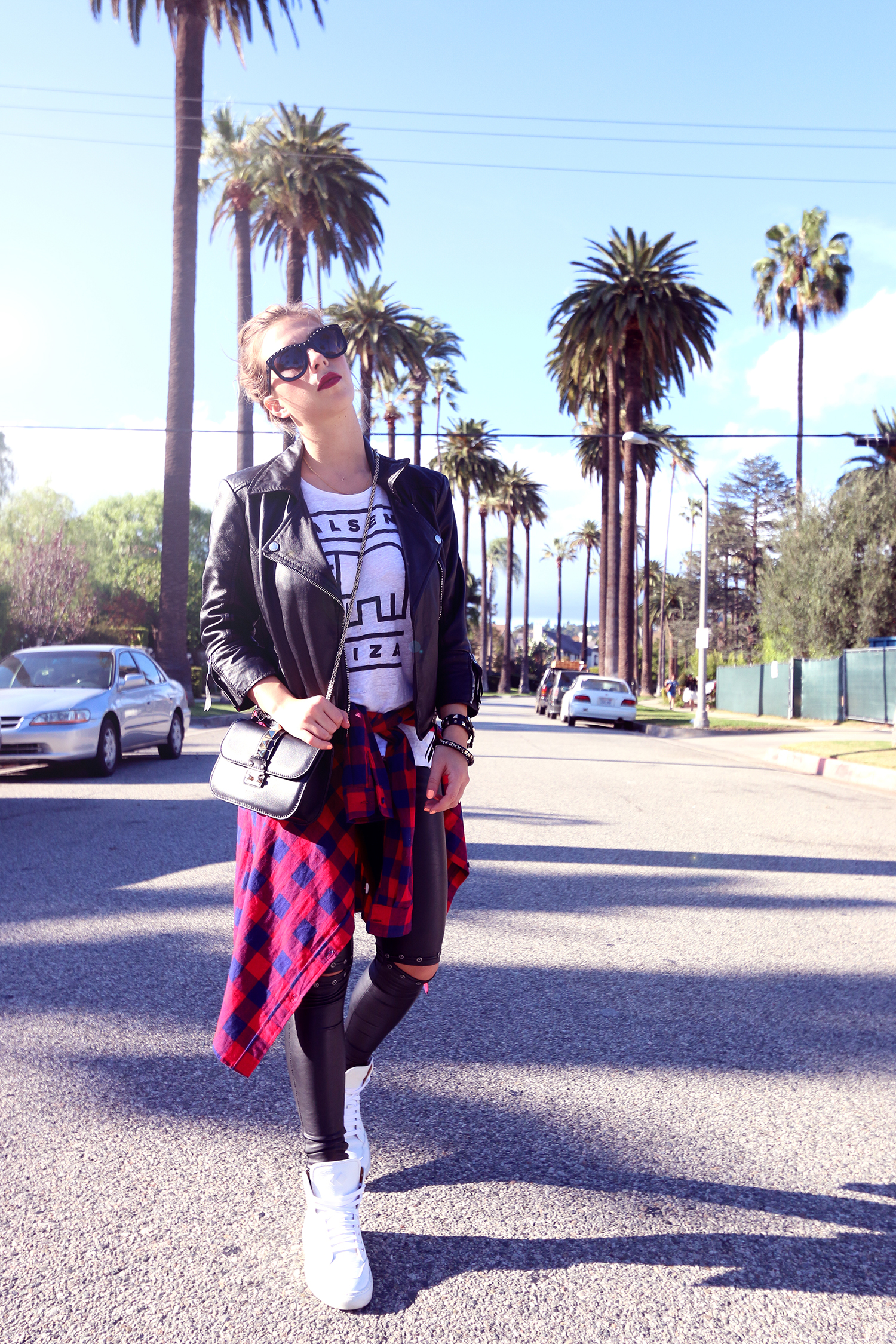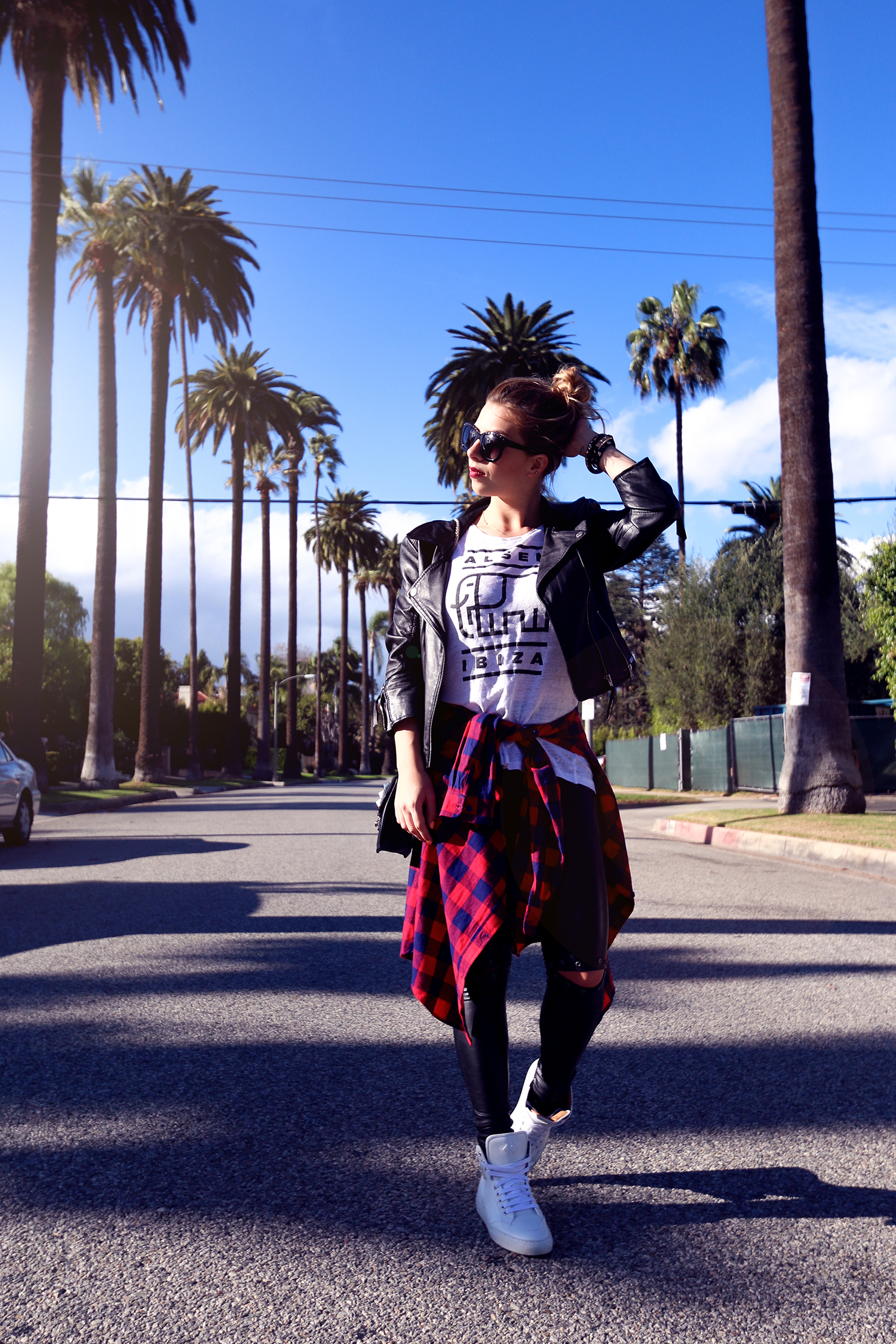 Outfit Details:
leather jacket: Tigha (new!)
shirt: Alsen Ibiza (not for sale), similar here
leather pants: Sassy Classy, similar here
white sneakers: Koio Collective, similar here
red shirt: Fashionpills, similar here
sun glasses: Diane von Furstenberg
bag: Valentino via Monnier Freres
bracelete: Louis Vuitton
Shop my Look: