Hey sweeties, slowly there is going to be a bit of peace in the process of moving. We are still placing  our last little things of our interior, such as pictures and small home accessories. Once everything is ready (and presentable), I will show you the individual rooms and there will also be a complete room tour on  Youtube. But let's get back to the beginning, to our move and my extensive search for the perfect furniture – I'll tell you my favorite interior and home accessories online shops 🙂
As you know, during my time with the girls in Mjunik-WG I was looking for an office for style roulette. But I quickly realized that this is not so easy due to the high rental prices in Munich. It was really hard to find an affordable and at the same time a quite big office! So I finally decided to look for an apartment – where Dan and I live, but which we can use as an office at the same time.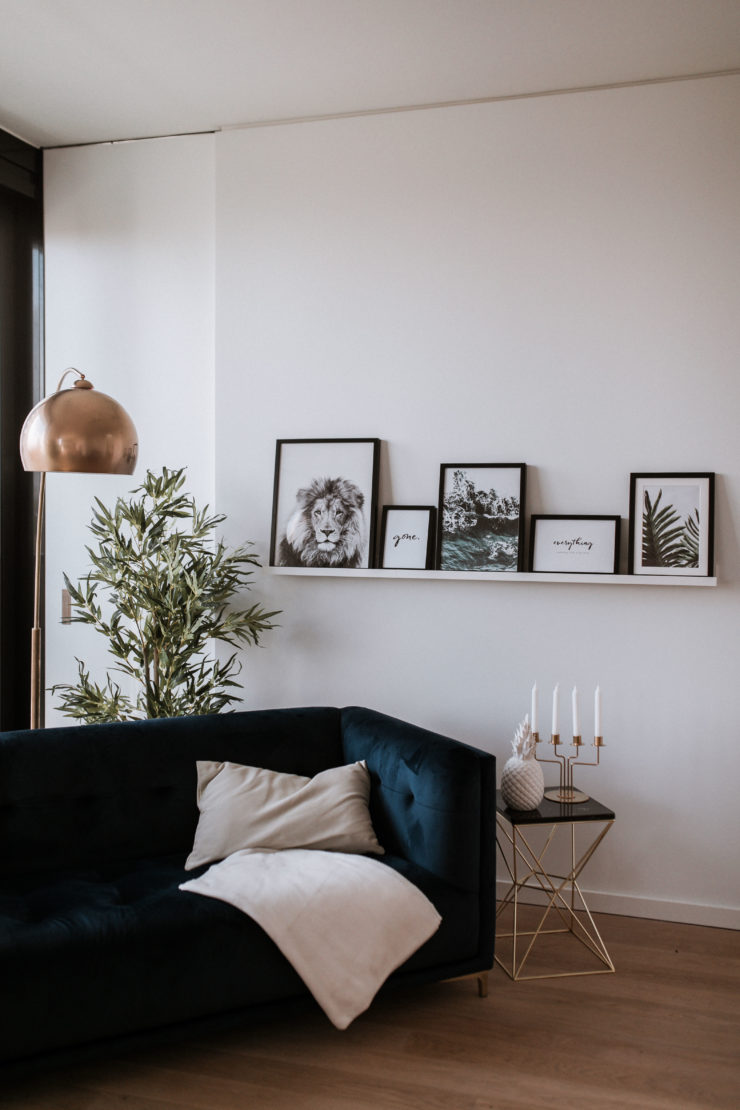 By the way, the beautiful pictures on the wall are from Juniqe and heartthings.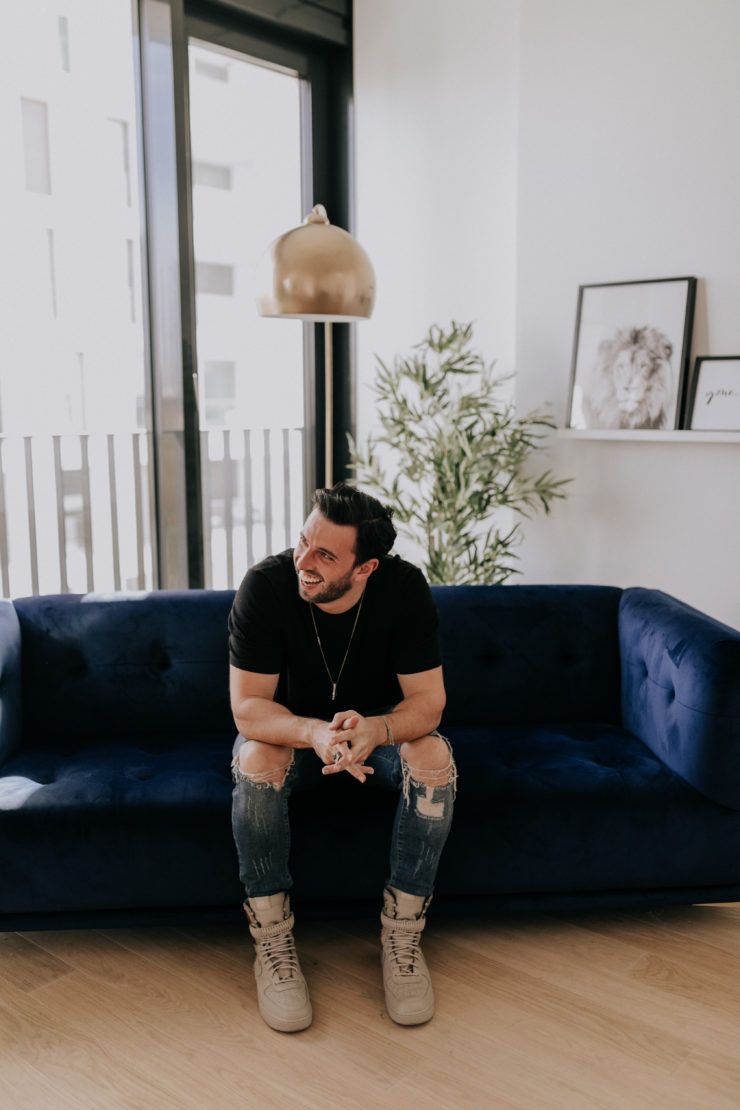 Shop interior here:

 The choice fell quickly on a modern apartment in the newly built "Parkstadt Schwabing". You maybe know the situation when you come to the first room during a flat visit, and you immediately think, "Yes, that's it!" – That's exactly how it was with our apartment. After a little break and calculating the costs, we said yes to the broker. From this moment on, no one could stop me. I started to scour all furniture shops and online shops for  new potential Interior.  I can really recommend Pinterest when it comes to finding new inspirations and ideas for interior and home accessories.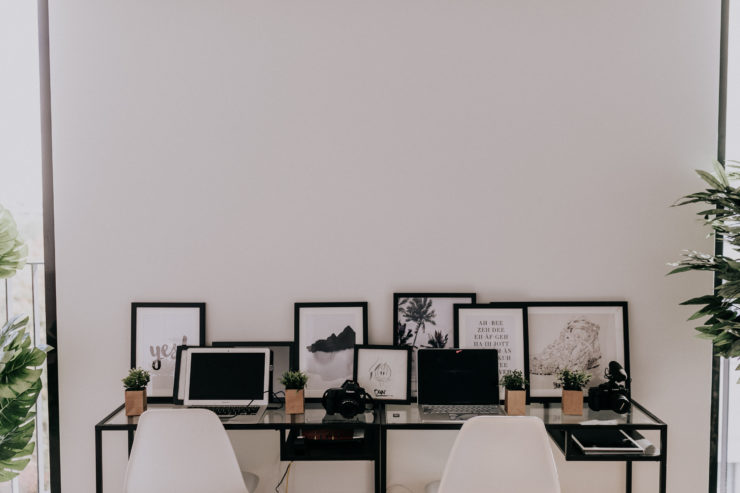 The pictures are all from Juniqe, the desks from Ikea and the chairs from amazon.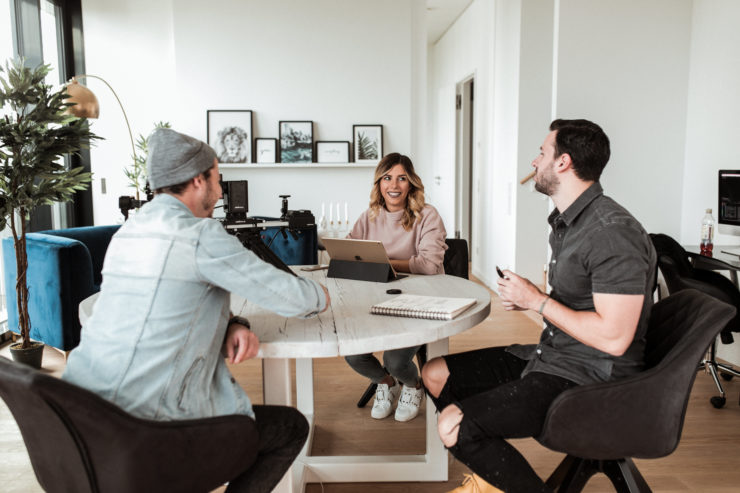 Shop interior here:

Of course there were a few differences and disagreements between me and Dan in the final selection of the products. As you can imagine, he was not that thrilled with my "pink & fluffy" interior design idea: D But I think with the first, shared flat it's completely normal to have different views on colors & styles. All in all, we have found a good compromise. Yes, I was allowed to choose some pink pieces and some home accessories. But in return Dan got e.g. many, fake plants.

I admit that I decided not to buy anything from Ikea at the beginning. But on some things I didn't come around. And it just made sense to get things and furniture, which we needed quickly and immediately, easily at Ikea. One such example is our wardrobe and shoe cabinets as well as small dressers in the bathroom or my bins for lipsticks and make-up. Larger pieces of furniture, such as our bed or the garden lounge, we ordered from XXXLutz, as we could wait for them. Unfortunately, the delivery times are sometimes quite long. Therefore you should pay attention to when your desire furniture is really available!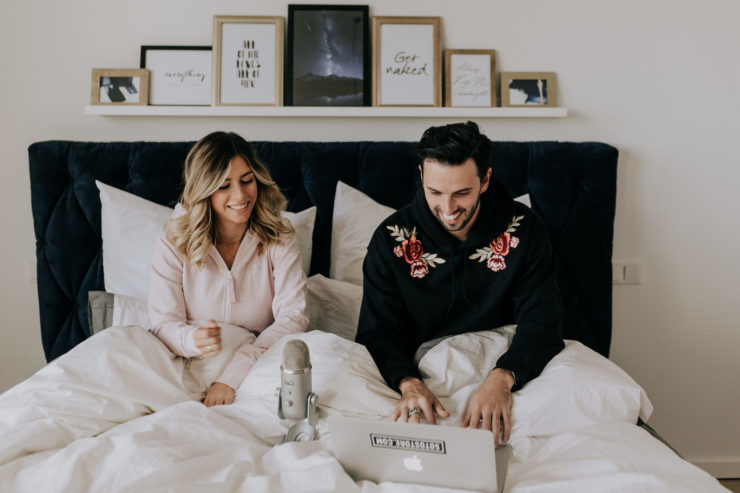 Shop interior here:

On my journey through all interior and home accessories online shops I have discovered some beautiful companies that I would like to share with you. I've already picked out some of my personal favorites for home furnishings and put together an entire list of online shops for you. A real surprise was Amazon! There are e.g. many great chairs and artificial plants that are worth a closer look.
My favourite interior and home accessories online shops:
Amazon
H&M Home
Home24
Intheattic
Ikea
Jonathan Adler
Kokon
Lazy Sunday
Myinterior.at
Otto
Vitra
Weißglut
Westwing
XXXLutz
Zara Home
The official key handover for our apartment followed a little after our commitment. When the time was right, we started to transport my things from the Mjunik-WG by rental car and with the help of the small Mjunik-WG-car. Since I did not take any furniture from the Mjunik-WG it worked actually quite good. By now, all the big pieces of furniture have arrived and today came the last delivery of cocoon with accessories and deco items, as you may have seen on Instagram 🙂 Our pictures are all (even those over the bed) from Mjunik-WG, but I have partly replaced and sprayed the frame in gold, because I wanted to the blue bed absolutely golden accessories 🙂 The living room lamp, I have also repainted by myself in gold gold rose gold 🙂
Edit: Juniqe has now golden frames as well, so you don't need any goldspray like me 😉 Have fun furnishing your home. I find just such small details as pictures and lamps make a huge difference.
I hope you liked the little Sneak Peek! Soon you will see more <3 What are your experiences with moving? And which interior online shops can you recommend?
Luisa
xx
P.S .: There will be more posts on my blog about interior soon.
I hope you liked the little Sneak Peek! Soon you will see more <3 What are your experiences with moving? And which interior online shops can you recommend?
Luisa xx
P.S .: There will be more posts on my blog about
interior
soon.