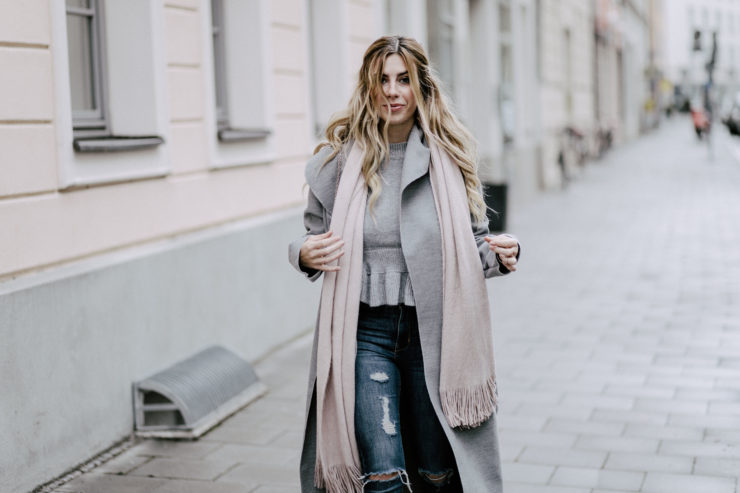 Finally the day I've been waiting for the last 3 months has arrived! I'm going to fly to Australia for the 4th (!) time this year and will end the year, similar to how I started it and travel to the other side of the globe. When I first flew to Australia in January I literally planned to go once and then never again. Take it off my bucket list and check. Well, we all know how life likes those 'plans' of ours.. I met a guy (who thought I'd end up with an Australian!?), fell in love and have been back two times since then – now being my third time since I met him on my last two days of my first stay. But that's another story we will tell you more about in our upcoming podcast Crossroads.
Also, I wouldn't be Luisa if I didn't wear pastel pink even in Winter 😉 It works, doesn't it? Especially, when it's not really as cold as it used to be in Winter, I mean – where did the snow go? I'm not complaining though. As much as I love Christmas markets and snow, I hate the cold. I'm just such a summer and beach person. Therefore, I'm more than happy to spend this years Christmas in sunny Sydney right by the beach in Manly 🙂 However, I have to say that I'm also a little sentimental, because usually I celebrate Christmas with my family in Hamburg. It's such a tradition and every year I'm excited to be 'coming home for Christmas', but this year my parents thought we'd all be gone and booked a flight to Gomera. Turns out, that my brother Leon would have loved to celebrate Christmas with our parents, but my youngest brother Fynn is in Australia right now doing Work & Travel and so they thought, we'd all make other plans. Therefore, I pretty much invited myself to my boyfriends family Christmas in Sydney and invited Fynn as well and here we go! At least I got a little bit of family with me and will actually celebrate Christmas in f**n hot Australia (how weird is Christmas in a bikini?).
It's actually pretty insane how life plays, because almost exactly a year ago on the second Christmas Day I was writing down my wishes and goals for 2016 and I remember writing down 'I wanna celebrate next years Christmas with my future boyfriend and my family' – and here we go! Who would have though. But that's another story I'll tell you more about in my upcoming E-Book (out end of January). There are quite some crazy and unexplainable things that happened this year.
I don't think I ever had to be more patient in my life than these past few weeks, because I haven't seen my boyfriend for more than 3 months now. Let me tell you – it sucks! Big times! I have so much respect for other couples who do long distance even longer! Daniel and I both decided, we'll never do this again! Two months are totally doable, but three months really got though and extremely hard. You just miss your partner so much, it actually hurts. To not be able to just see, feel, touch and experience your partner for such a long time is simply painful. However, it was a good lesson and in the end especially the tough times only make you stronger.
Daniel started his own blog by the way! Go check it out, it's actually pretty amazing and interesting! I don't read many blogs anymore, but I actually can't wait for a new article on Daniel Baldock Creates every time 😉 Of course, I might be bias because he's my boyfriend, but I honestly love his unique ideas and thoughts. He has a section where he talks about 'Music Lessons' and what certain songs and lyrics have taught him throughout relationships, break-ups, his first time having sex and so on. Pretty interesting if you ask me 🙂
Last, but not least I made myself a 'little' Christmas present and upgraded my 15h flight to Sydney from Dubai to Business. I'm beyond excited, because I've only flown business class once in my life and apparently Etihad's business class is pretty sweet. With roll our beds where you can lay completely flat and great service. We'll see. I'll definitely let you know if the money is actually worth the upgrade.
xx Luisa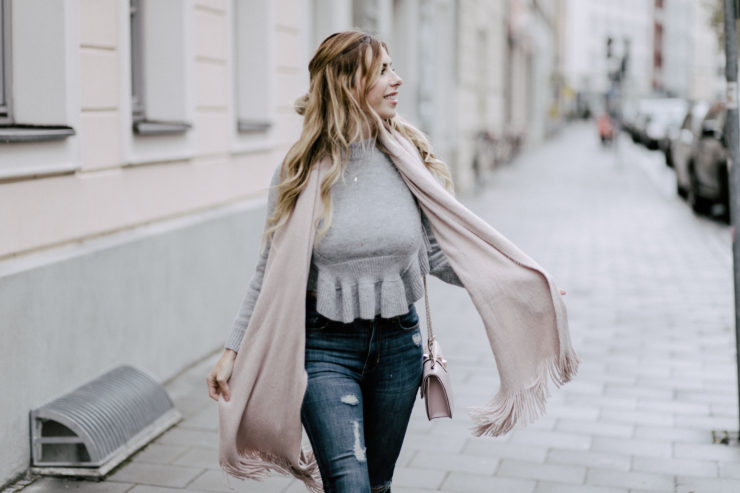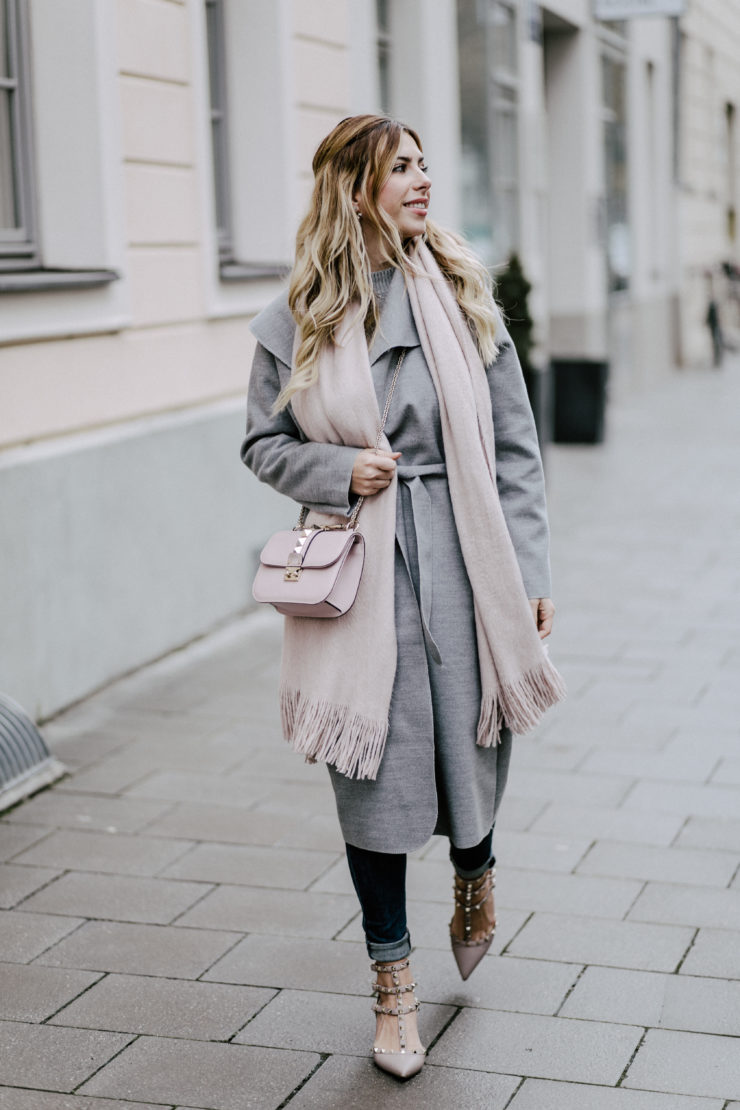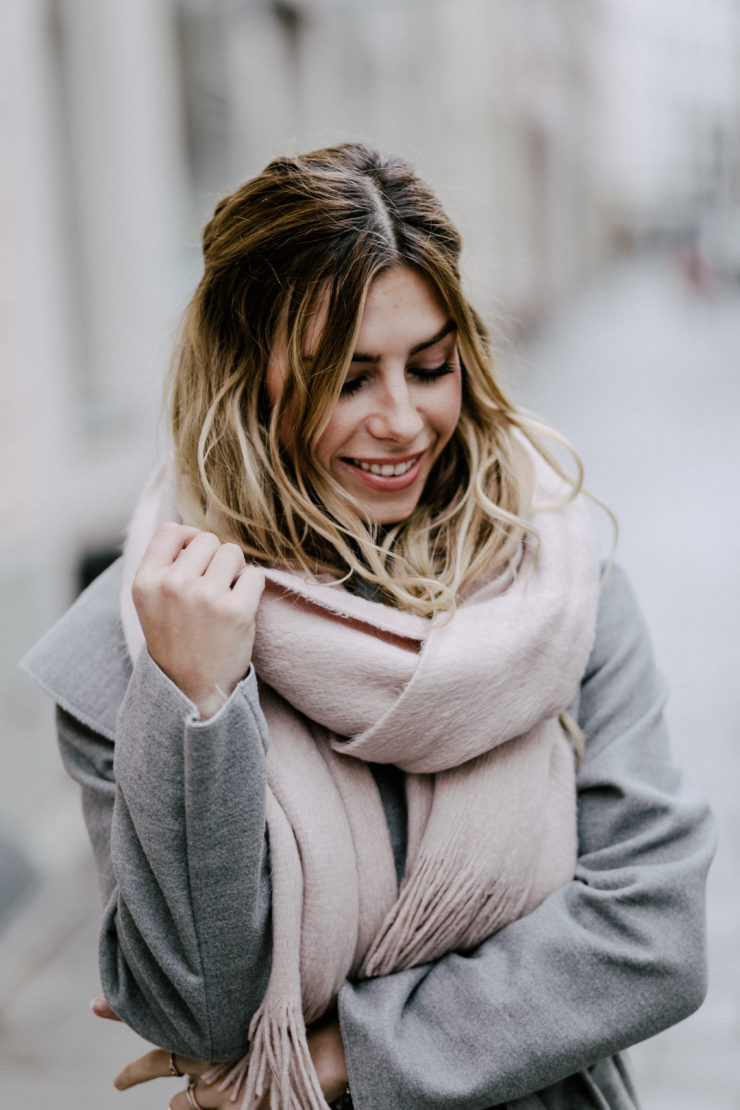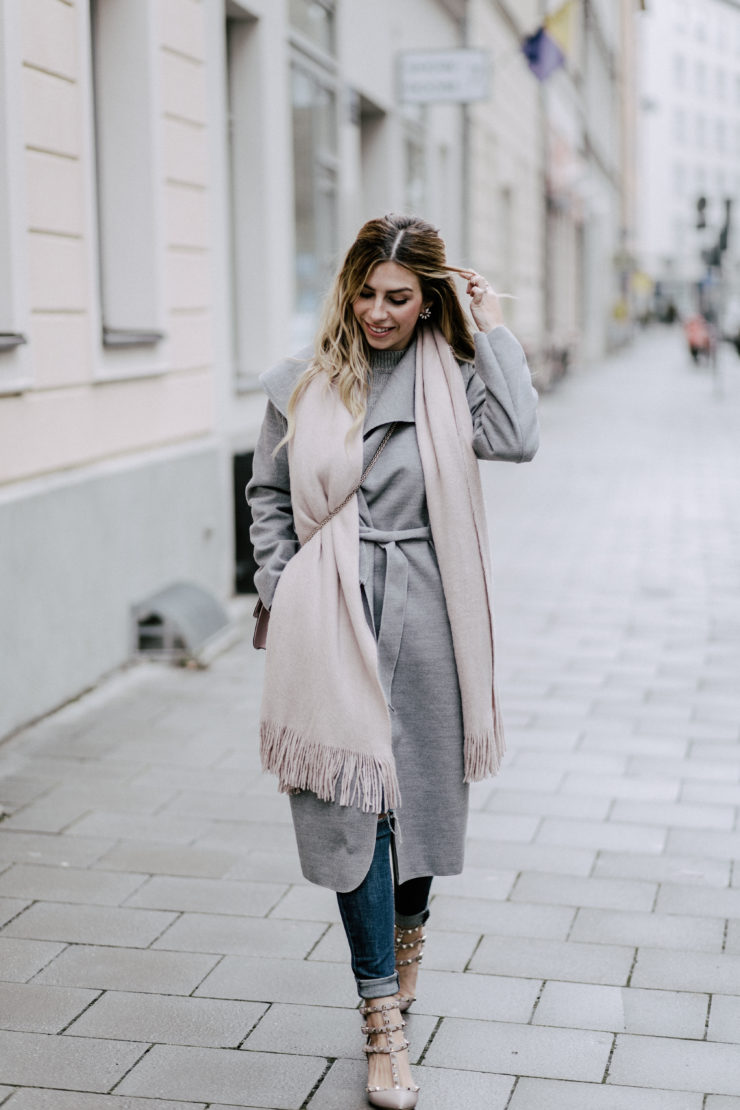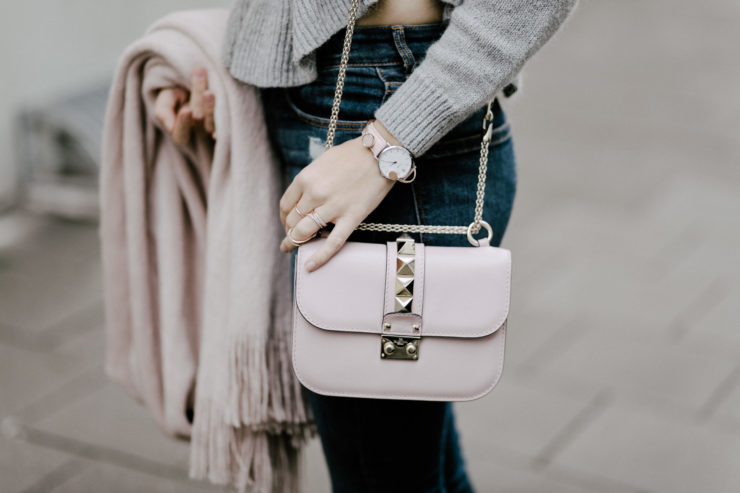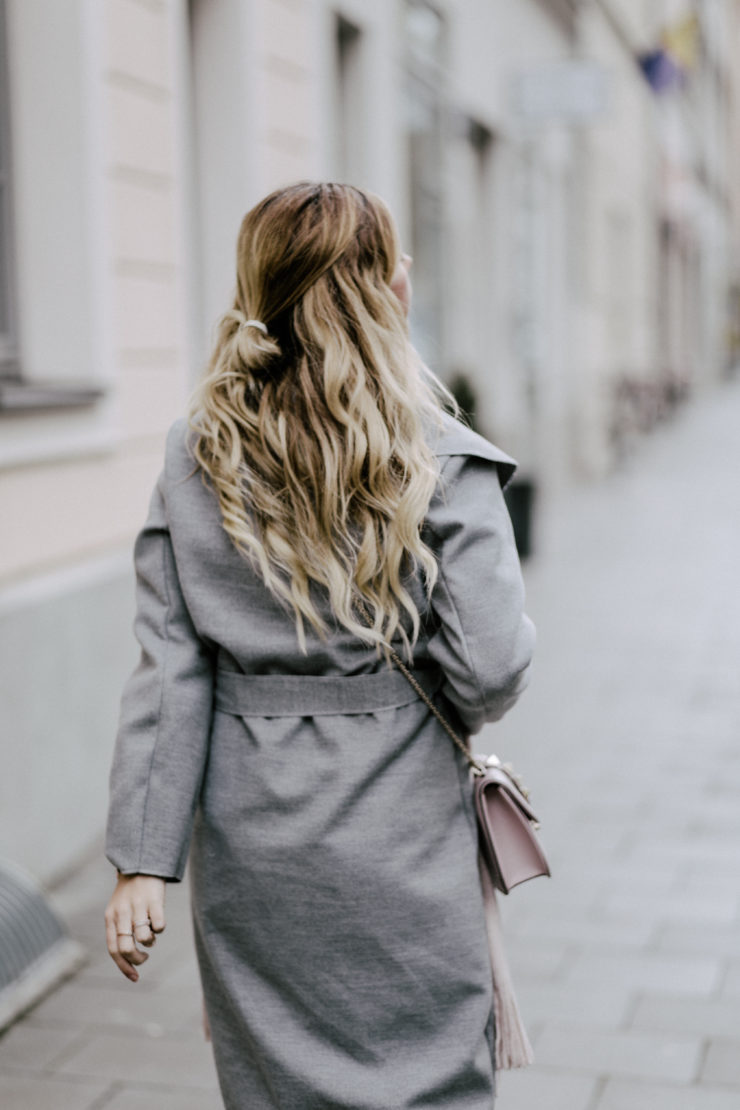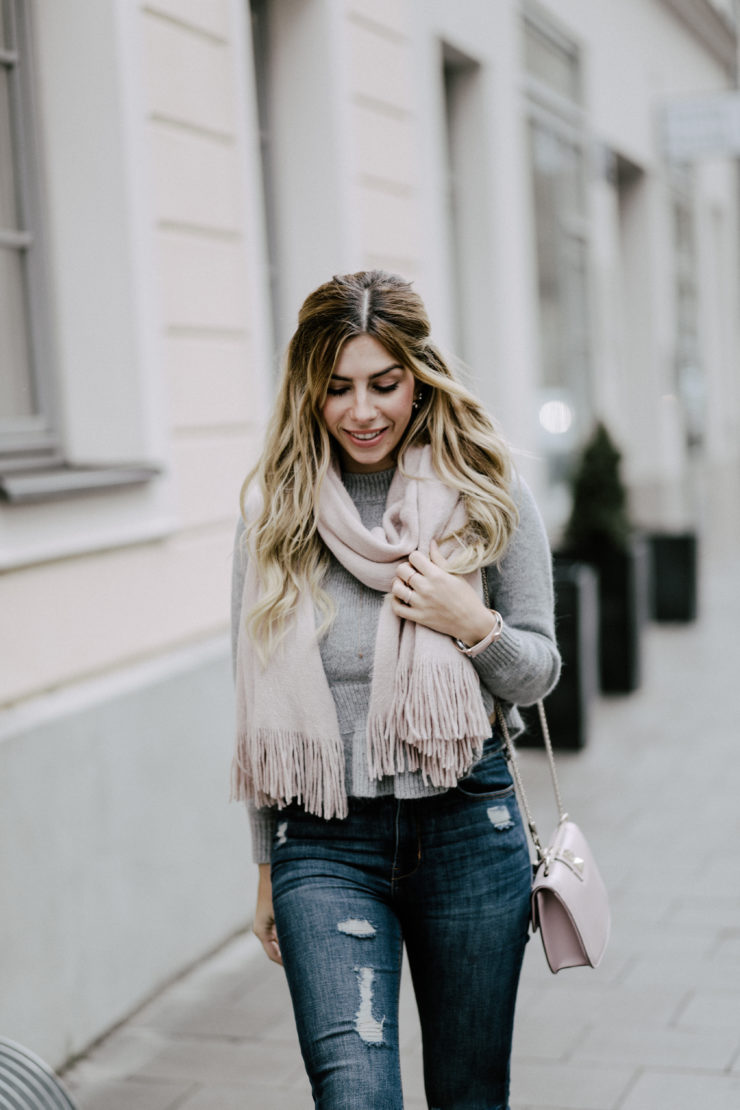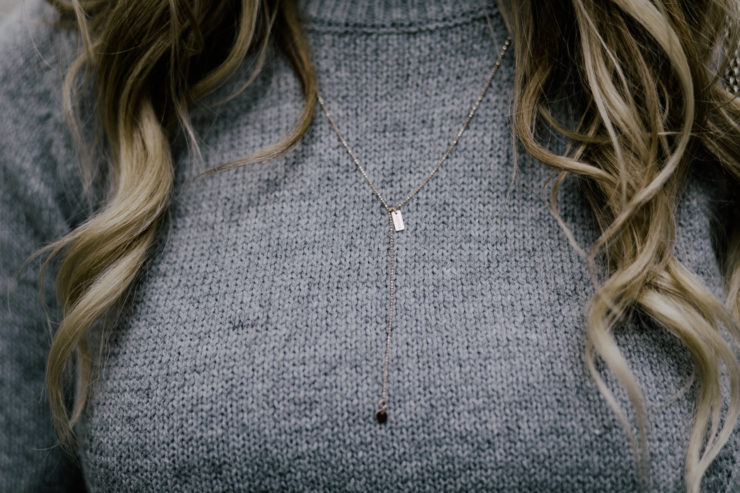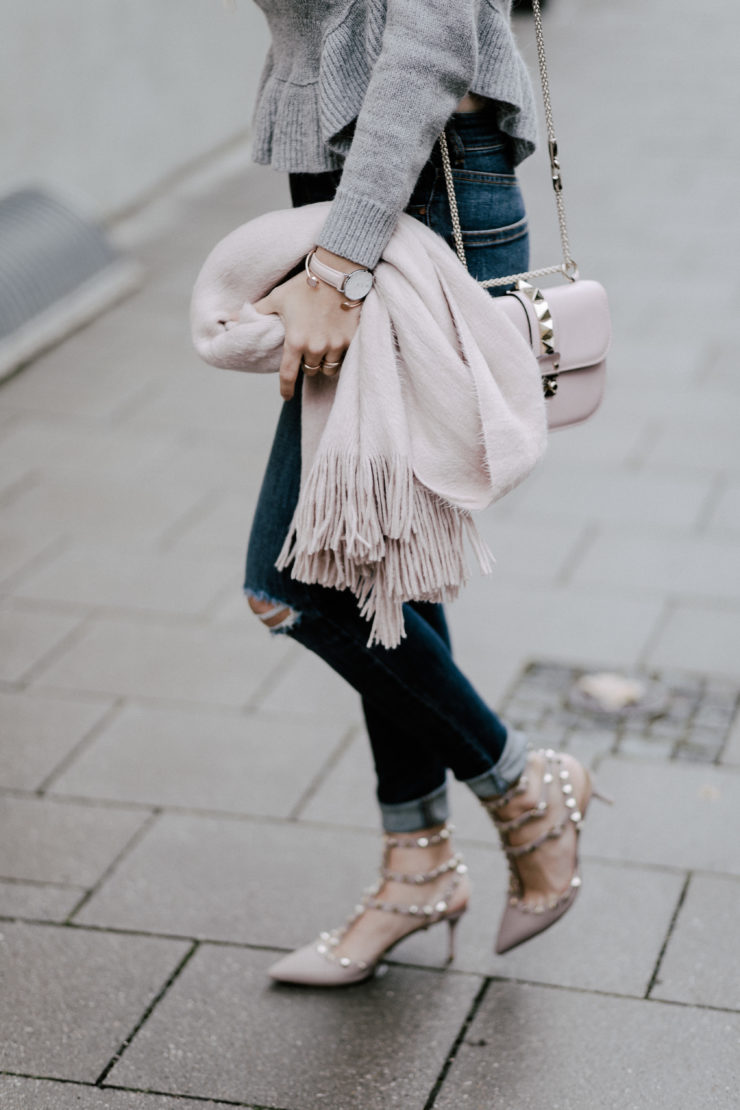 Outfit Details:
grey coat: NAKD | similar coat
grey peplum sweater: Studio Berlin | similiar sweater
jeans: Mango | similiar Jeans
pastell pink heels: Valentino Rock Studs
pink scarve: H&M | similiar scarve
pink bag: Valentino Lock Bag
rose gold necklace: ANNA
Shop my Look: