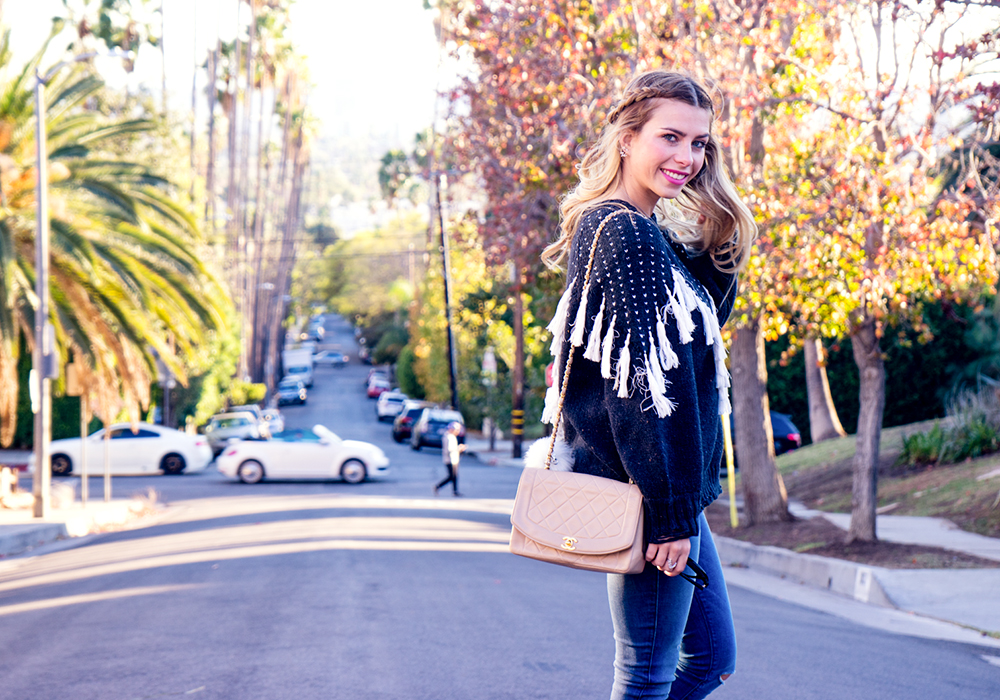 Lalaland – the city of (broken) dreams..
I can't deny that I love tops and sweaters that are cozy, sporty and just relaxed. However, they cannot be boring! It doesn't matter if its my t-shirt collection with Visual Statements or the graphic sweaters I created with Rad – they all have to be stylish and special, yet super comfortable! Especially, in winter time I rather go for warm comfy sweaters, which sometimes makes it harder to still look well-dressed. If you're not only looking for turtle necks and knitted sweaters, it sometimes gets hard to find 'something cool'. Therefore I was even more excited, when one of my favorite labels for stylish cozy sweaters reached out to Xenia and me: Wildfox. In case you haven't heard of them yet make sure to check them out, because they have the most comfortable cashmere sweaters and funny sayings and graphics on their t-shirts and sweaters. I'm so happy to be a Wildfox ambassador now, especially, since you can finally get their amazing products in Europe now! I remember the times, when I had to go to stores such as Saks Fifth Avenue or Nordstrom to find the infamous Wildfox sweaters. But now its easier than ever and Wildfox actually has a huge online shop!
Looking at these pictures, that Nic Ford took from me in Los Angeles in December, I can hardly stand my wanderlust and how much I miss Lalaland. (Un)fortunately, some things have changed in my life and I went through some tough life decisions the past few days and came to a hurtful, but reasonable conclusion. As most of you know, it's always been my dream to permanently move to Los Angeles and start a new life in the City of Angels. I already lived in L.A. for the past two years but always with breaks in between and never longer than three month. I had to fight hard and work even harder to finally get my O1 (artist working) visa, so I could actually legally live and work in Los Angeles. I spent a lot of money on the visa and it took me almost one year to finish all the paper work. But it was my dream. So it was worth it.
However, whenever I talk to my really close friends and family they ask me: "Why do you have to go to Los Angeles right now? Why don't you work a little longer and work more, save up and then move there?" My response: "Because I want to!" Duh. Oh, and also because I LOVE the weather, the city, the energy, the lifestyle and the idea of living there with my best friend Lina. I'm very stubborn and strong minded. If I decide to do something, I'll do it! If everyone says its impossible and not the best idea – I'll try everything to prove them wrong (including myself). I've always been like that! My Dad even used to call me 'Rumpelstiltskin' as a kid, because I would freak out, if I didn't get what I wanted 😉 Those good ol' days. Nowadays, I just do whatever I feel like doing! I'm my own boss, I work more hours than a lot of people and I never stop, but it doesn't feel like work and I love it. Traveling to Australia next week? Why not! Bungee Swing? Yolo! Moving to Los Angeles? Hell yeah.
I'm one of the most spontaneous persons I know (although Xenia, Tatjana and Lina are pretty spontaneous as well) and I love to just live life. I feel like, we sometimes forget that we actually really just have this one life! So whenever there's a new chance, a sudden opportunity to experience something new – count me in! Remember: "You only regret the things you didn't do!". Nevertheless, I recently had to (honestly) think about the question, why I want to move to Los Angeles RIGHT NOW? Why does it have to be right in this second? Why not wait a few more month, maybe even another year? Why not work on some big ideas I've always had with Julia for our company Our Clean Journey? Why not use my 'popularity' in Germany, why not work even harder on Style-Roulette and use my contacts and job opportunities here? Why not save up some money and do it 'big' in the future? Why not just see Los Angeles as my second home without actually having an apartment there where I have to pay an outrageous amount of rent each month? Why not just travel there a couple of month each year, but still work in Germany and Vienna on my projects that will actually bring me money and financial success? Why not?
It's not that easy! Or is it? I promised my friend Lina to move into a new apartment with her in L.A., to share a room, I promised myself – and already told everyone I know and all my 'followers' that I'd move to Los Angeles this year. Finally. However, when another friend, that doesn't even know me for that long, genuinely asked me the same question two days ago, I couldn't help but actually think about it. Logically, it does not make sense for me to move to Los Angeles right now. At all. It's way more expensive, I don't have any jobs lined up, I'd have to buy a car, get insurance and I'm 'no one' there with my 150.000 Instagram Followers (in the U.S. its all about the numbers and bloggers there have around 500K to a couple of millions). But it's my dream! I've been picturing myself in The City Of Angeles since I first watched Lauren Conrad cruise down Mulholland Drive in her convertable in the TV show 'The Hills' ten years ago. It has stuck with me ever since. I LOVE the city! There's no other place on earth (at least none that I've been to so far) where I feel as 'home' as in Los Angeles. The cities' energy just got me! There's something about Lalaland that'll grab your attention, your heart and won't let you leave. Oh right, its the 360 days of Sunshine 😉
My entire life I'd usually go with the irrational choices, not thinking about the consequences and just doing what my heart and feeling told me. Or the Universe and God. The plan was to go back to L.A. in March, find a new apartment with my dear friend Lina and work on the blog, travel a little and actually 'live' in L.A. and not only do 'vacation' (as I kind of used to do the last few times). Nevertheless, there are a few major projects that kind of force me to stay in Germany. It would definitely make more sense, career wise.  But then there's my will – and my inner voice that tells me both: "But you WANT to, Luisa" and "It's not the best decision right now, finish your projects first'. Devil left, Angel right. Life can be hard (first-world-problems, obviously).
I'm still not a hundred percent certain, what I should do and what the right thing to do. I do, however, feel like it would make more sense to wait a little longer with L.A. and stop the 'black and white' thinking in terms of either or. Why not do Los Angeles a couple month this year, but live and work in Germany and Austria and travel the world whenever I get the chance to in between. Although, it really hurts me and I feel really bad for letting my friend Lina down, something tells me, there are even bigger and better things to come if I wait a little longer. If I pursue my dream, don't give up on it and am patient.
My new plan for now (never trust my plans tough, they might change completely within a day) is, to stay in Hamburg and Vienna in March, fly to Dallas in April for the rewardStyle conference, then go to Los Angeles to visit Lina and empty our storage and sell our furniture and take my clothes with me. Then work in Vienna with Julia in May and June and go from there. I might go back to L.A. in Summer to travel some more with Lina, I might go to Sydney in between to visit someone very special and I might just change my mind again. Tomorrow.
But you all know, in the end whatever is meant to be will happen, because:  Everything Happens For A Reason.
The EHFAR principle.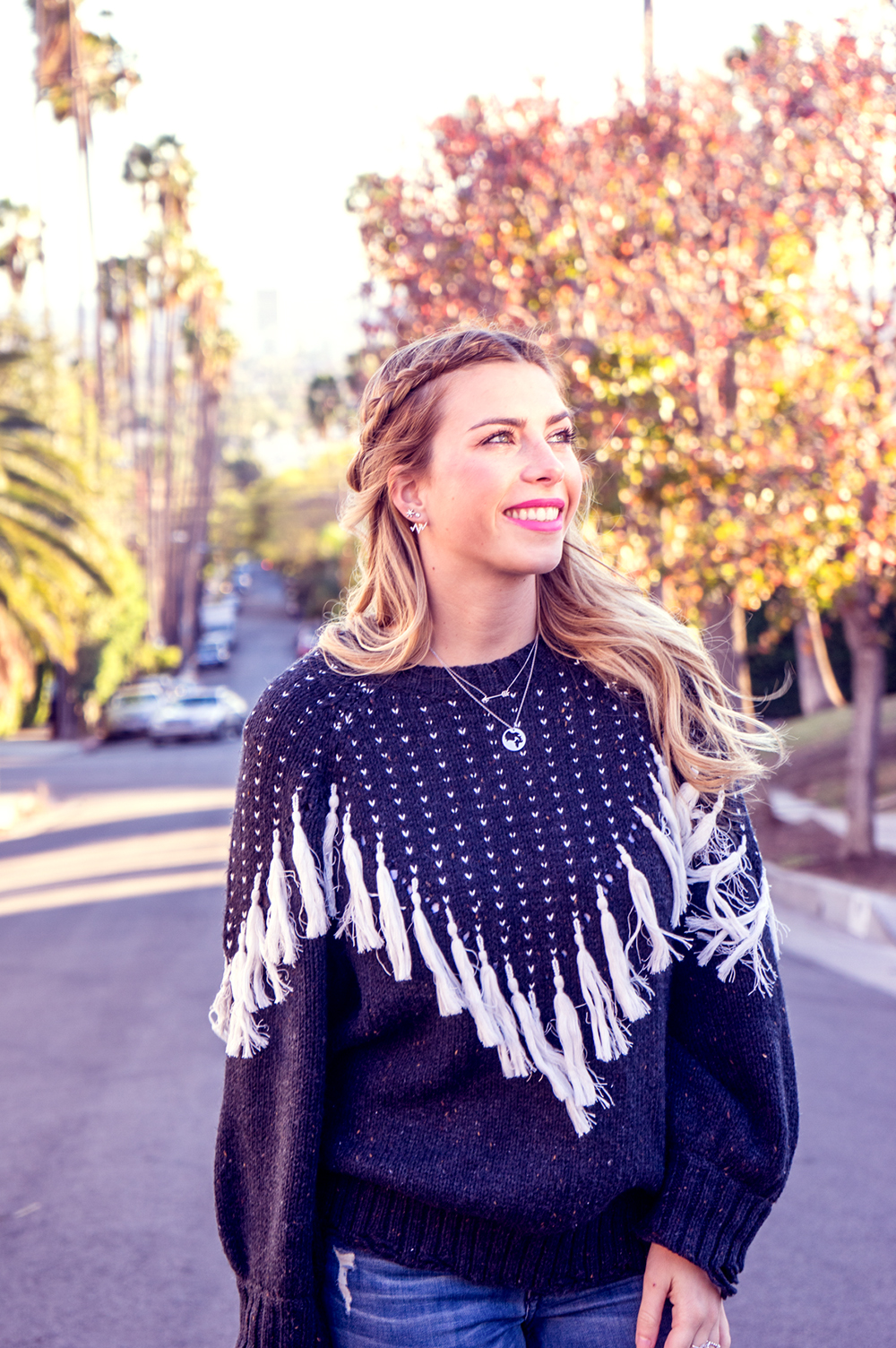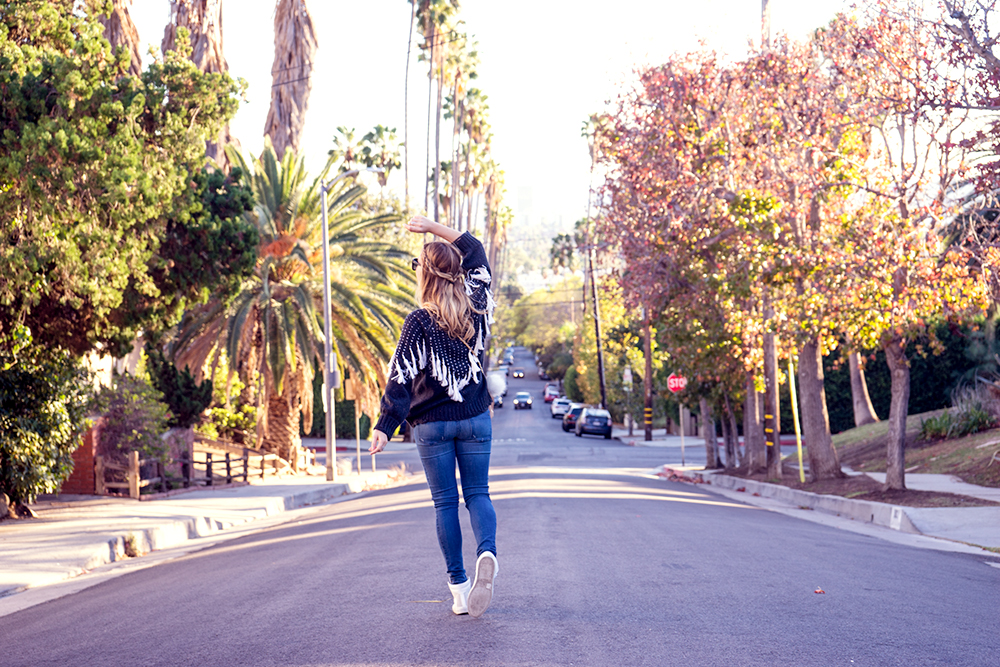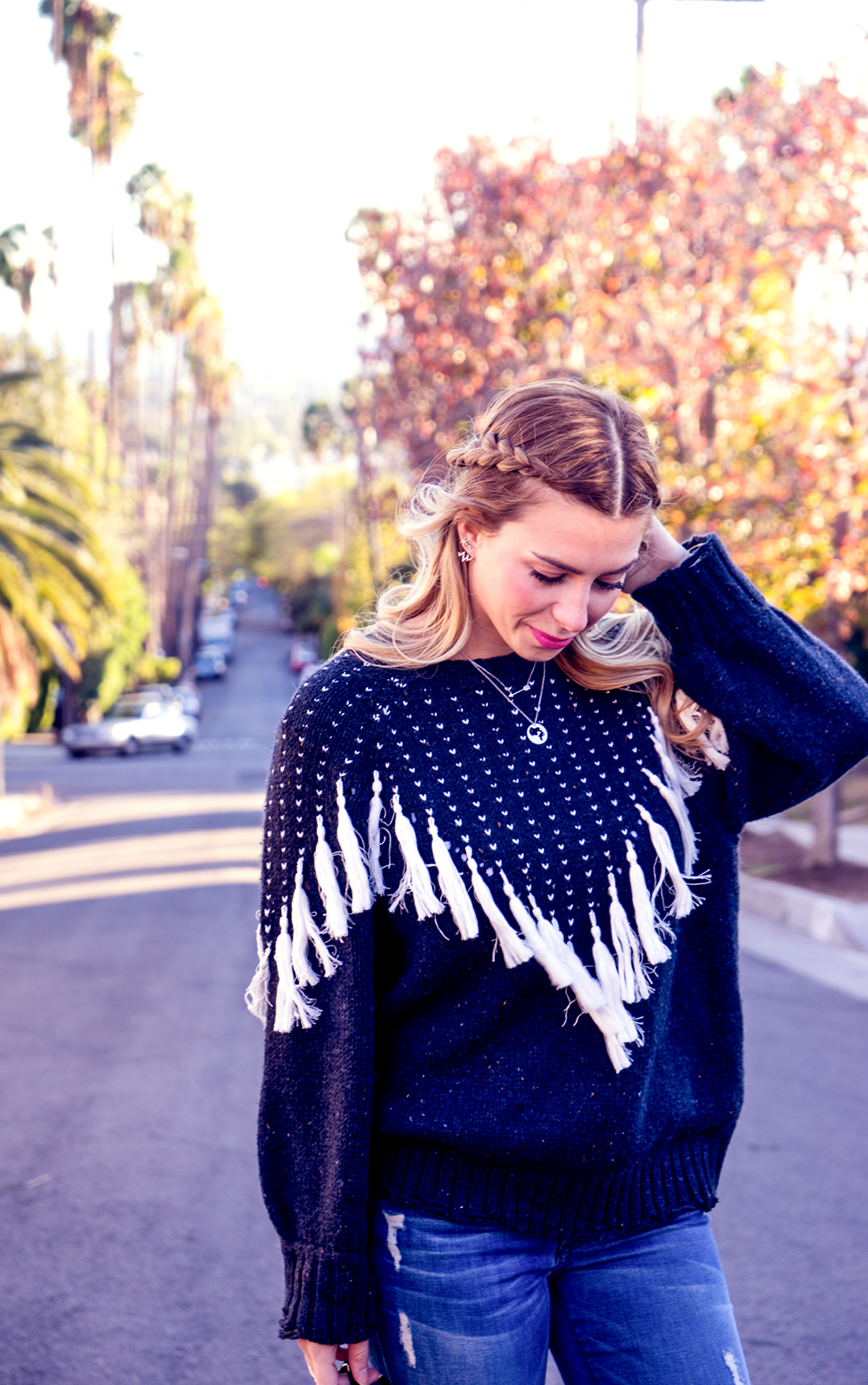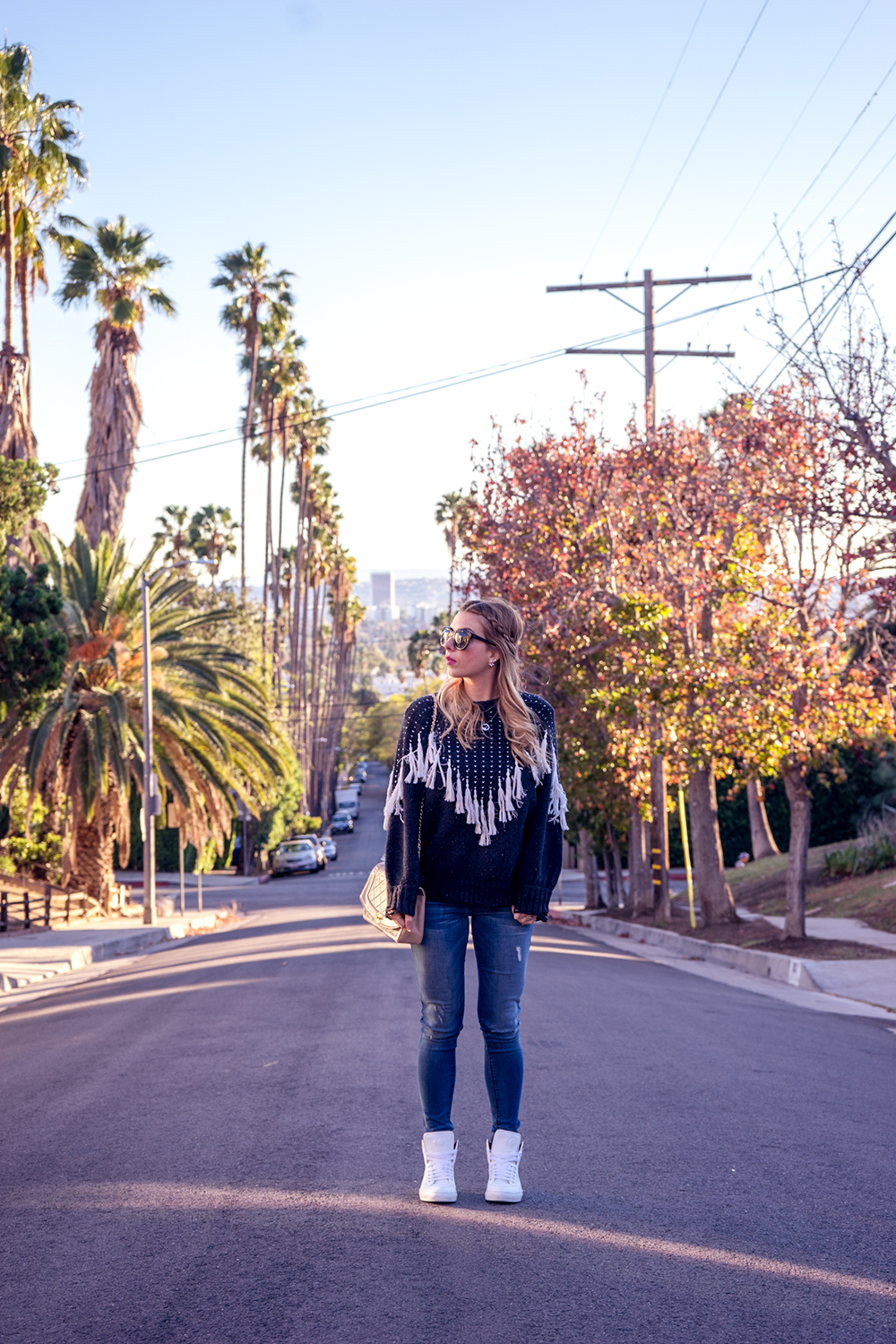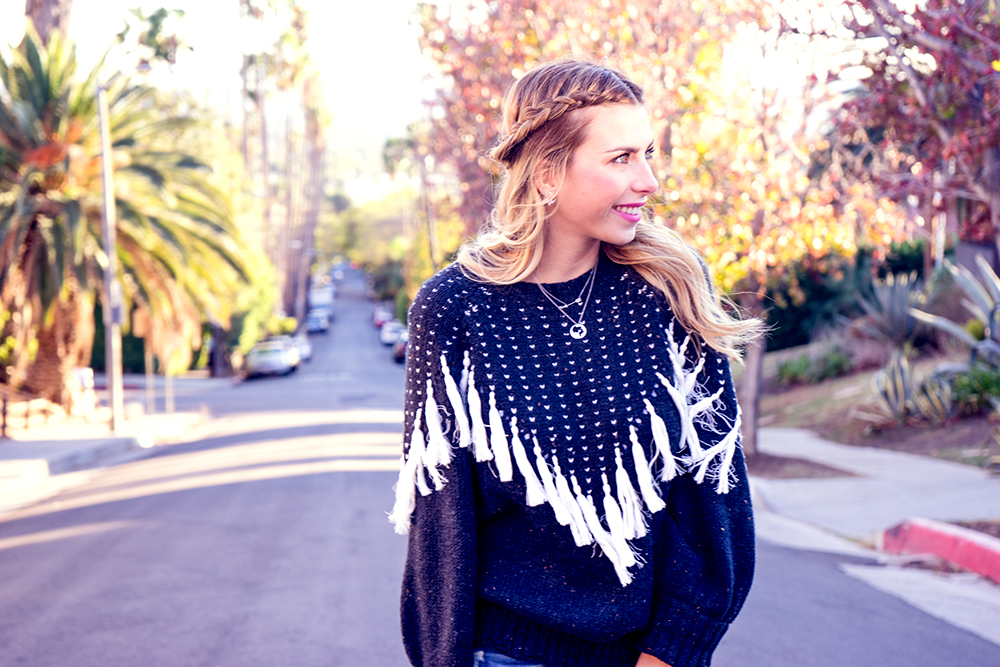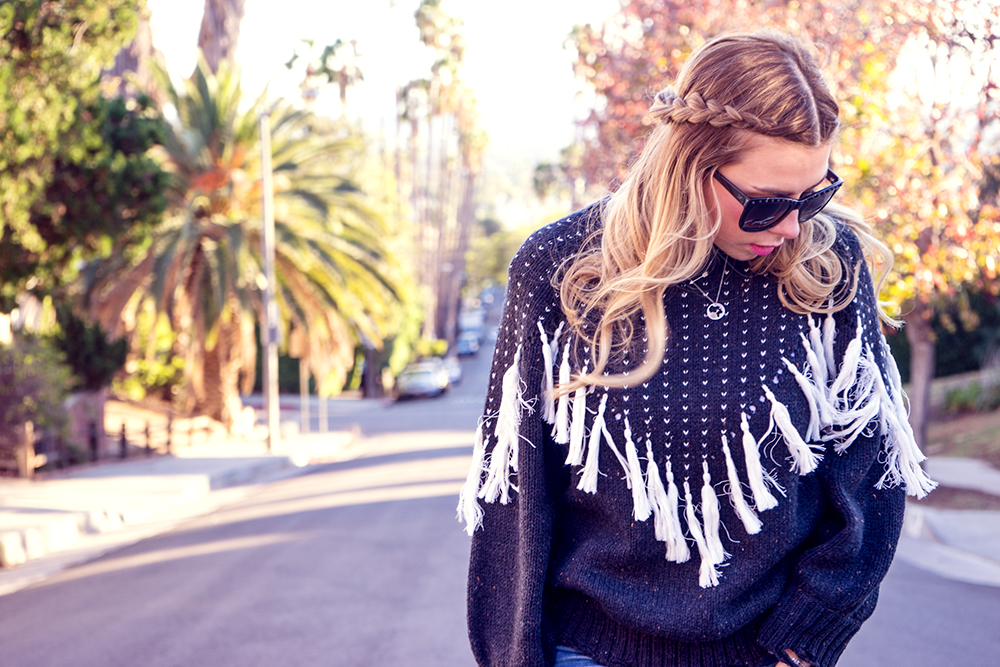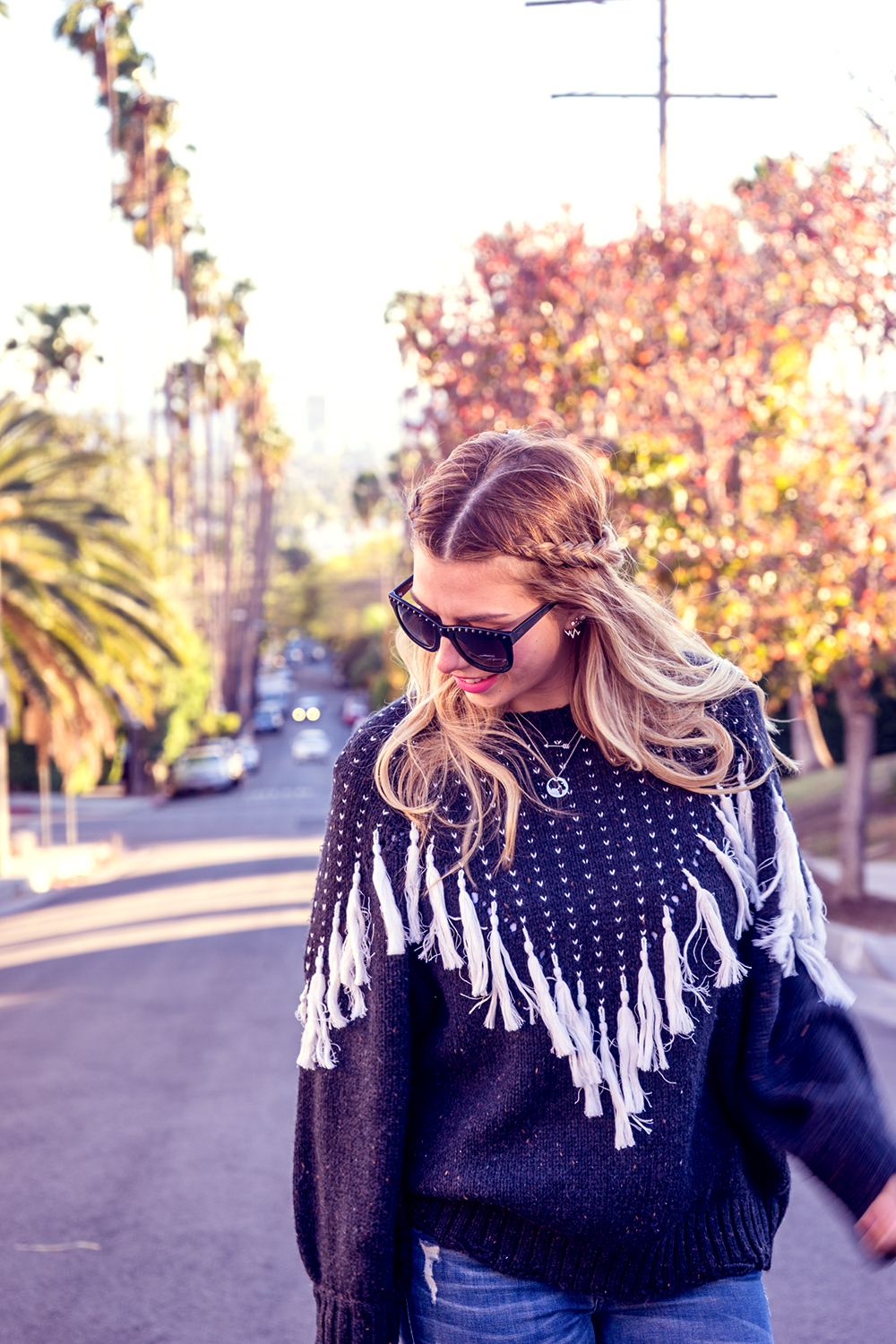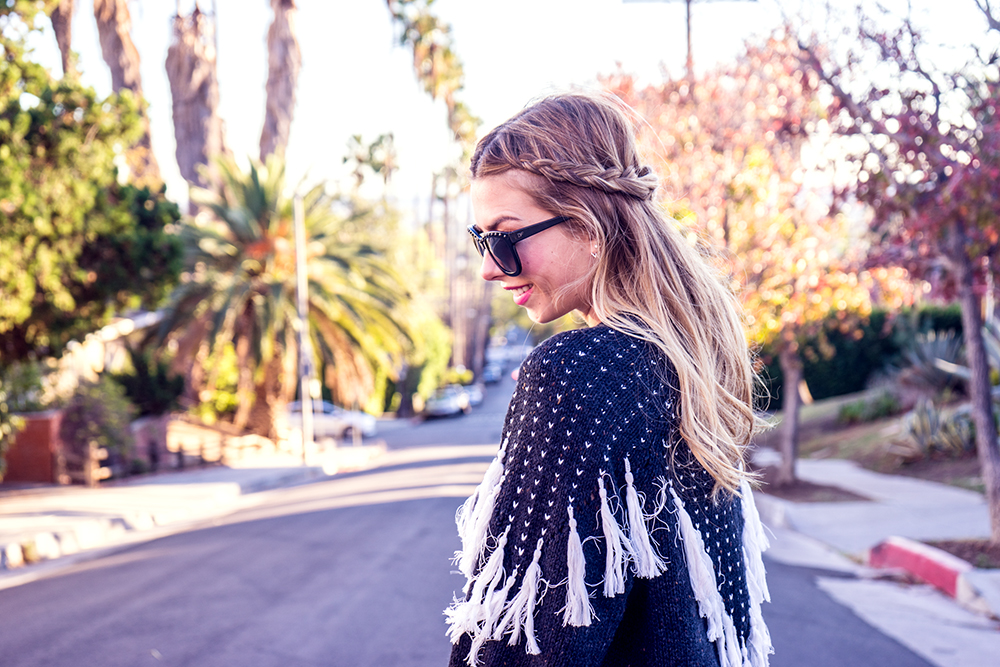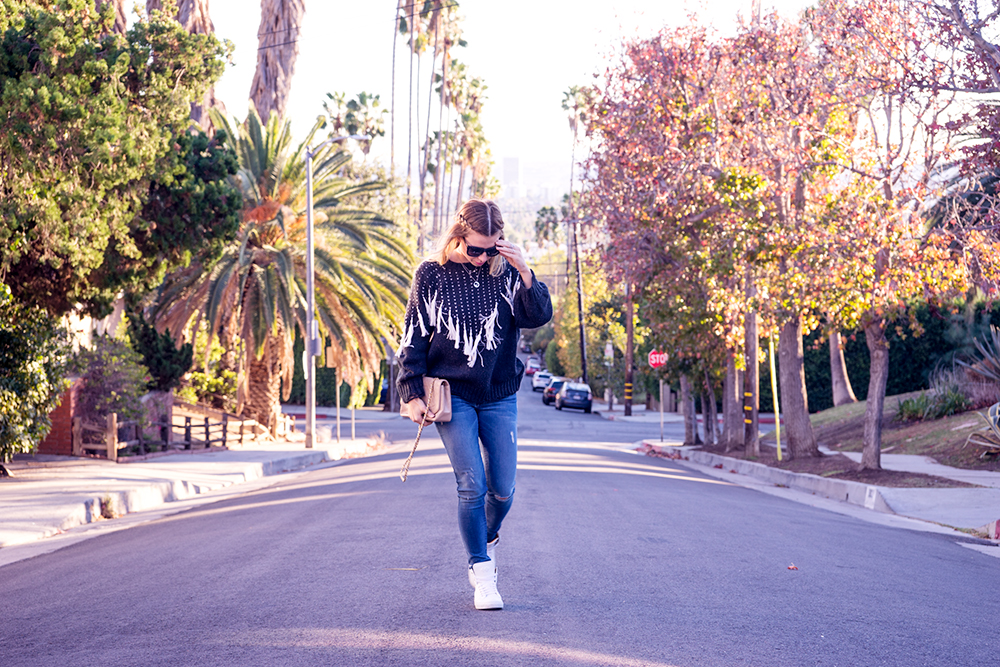 Outfit Details
sweater: Wildfox
jeans: Black Orchid
shoes: Koio Collective
bag: Chanel via Luxussachen
world map necklace: Luísa Lión
(also available in gold and rose gold)
error necklace, ear rings: Adornmonde
Shop my Look: